What I thought Was Forever
January 10, 2018
How do I answer to that? I thought.  I really do love her and I only want to be with her, but how do I know I want to spend the rest of my life with her when we are only twenty five? I can't commit to that. I repeated what she said back in my head: "What do you not love me or something? Because I thought we had something special. I love you and I don't know how else I can show you that. And I probably will always love you.  There are days I miss you so much and I feel like you just don't miss me...Why can't you just have some faith, and believe that we are meant to be." My heart was beating a mile a minute, thump, thump. I wondered if she could it hear it too. There wasn't anything coming out of my mouth as I tried to speak.
I had questioned if I was ready for this moment, it was our two and a half year anniversary. So I wanted to make this one special for Lauren so she would never forget it. I set up a picnic, in the middle of the field at the location where I took her on our first date. I had the perfect scenery: a red and white checkered tablecloth, a picnic basket filled with grapes, and turkey and cheese sandwiches cut into triangles. I stayed up the whole night before to make her favorite raspberry bars. I was fortunate that the weather was perfect. It was seventy degrees outside, with clear blue skies. My buddies thought it was perfect. One of them said, marry her already".  Others said "You are too young, you should enjoy life, so don't marry young." I never really had a relationship that lasted this long. It made me question, Do I actually want to marry this chick?
Lauren and I met through mutual friends junior year. While at the Gamma Phi house. After a few minutes of asking asking each other, "Where are you from, what grade are you, etc" We later got dinner at the dining hall together, and realized we had mutual friends. We didn't start officially dating until the spring semester of our senior year. It wasn't until we were outside, overlooking the mountains of colorado, throwing our caps in the air when I saw how happy Lauren was. In that moment, with the suns rays beaming through the clouds, I wasn't even thinking about how ecstatic I was to be done with college. Instead, I thought about how I wanted to be with Lauren after graduation, in the real world. We only lived an hour apart which is awful when there are slippery roads along with rush hour. So seeing each other wasn't an issue. We both had stable jobs so we talked daily, and saw each other on the weekends. My sixteen year old sister became best friends with her, so much so it was almost impossible to pull them apart. My older brother knew she was the one for me, but did I?
My parents loved me no matter what, and thought whatever I did was right. I talked to my buddies and came up with the best idea I'd had in a long time. I am afraid of settling down, but I love this girl too much to break up. Why do we need to break up? I thought, I'll commit myself to her by offering her a promise ring. That way I still promise to love her and be with her, and see if it works. I picked out the ring in advance, knowing our anniversary was coming up.
After thinking for what seemed like hours, but must have only been minutes for her, I finally replied. "I do love you! And I do want to commit to you". It occured how much this moment really meant to her, and me. Without hesitation, I knelt down on one knee and flashed the promise ring at her. I said, "Will you wear this ring as a symbol of our commitment to this relationship and our future?"  Before I slid the ring on her finger, I looked into her blue eyes and reached for her soft hand. She opened her mouth and said, "Wait there's something I have to tell you." I paused and didn't know what to say. My heart started beating and I could feel my pals start to sweat. She looked concerned, and made me think, am I making the right choice?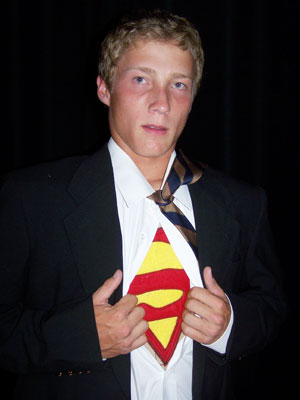 © Sophie M., Wolfforth, TX