Once lost, but now loved
December 30, 2017
"Maybe someday, only someday will I awaken to know I'm dreaming and I will open my eyes to see how distant it really is. I will realize there are more important things than adventurous nights and happy, love filled sunny days, just like Mama says. I can only hope I will wake up to smell reality's fire just enough not to burn," Destiny Sinclair whispers desperately to herself.
She is lying on the floor, looking up, only wishing to see a beautiful starry night sky and share it with someone who loves it as much as she does, but her weary, tired eyes only able to see her bare ceiling looking down upon her as if to be disappointed.
Destiny only wanted the best for herself, but she didn't quite grasp life's purpose. She never listened or sat still enough to hear her roles in life. The girl was 18, and wanted to seek greatness. She wanted it now, she had no patience for the flowers blooming in spring. Needing a path right at that moment was all she knew. The arrows were bent in 6 different directions leading either into the deep dark forest or an over flooded river keeping her away from whatever lurked in the depths. Young Destiny's hazel eyes longed to see colors. Even though they were right in front of her, she was blinded by a thick cloud of dark fog. The sun was once shined and the flowers once bloomed, now the clouds hover giving only the rain, but never a rainbow. Drowning the roots and fading vibrant colors.
Day after day, her mother griped at her, she needed to get a life and stop dreaming. Those words eating away at her, making life even more unbearable.  She wanted to fly but her mother's words pulled her away from the clouds. Her mother needed her to stay at home and work. Always wanting an adventure, but desperate to make her mother proud, Destiny sat alone at night and wore herself down to the bone in the day. Only to receive rejection from the only one she loved. Well, the only one that once knew.
One night after longing for relief, Destiny heard a small tap at her window. Despite her fear and the loud thumping of her heart, she sat up from the bed and set her feet on the cold wood floor. She tip toed to the window and peered out through the glass. She stepped away for a moment then looked once more to see a familiar smiling face of a boy named Samuel. The boy that always smiled at her in class and looked in her eyes as if to see diamonds and gold. The one that gave her a hand when she fell, they both wished to hold hands forever and gaze into each others eyes for eternity. The one that gave her a smile and rosy blushed cheeks when he said her name. He tapped on the glass once more and gave motion for her to open the window. She smiled, nodded and lifted the glass as fast as she could. He whispered softly, "I want to give you my heart forever." Destiny took his opened hand and he gently took hers. He helped her out the window and they were off to be together.
Her mother never even searched for Destiny or even thought of her. Destiny did think of her mother only to wish the best for her.
Samuel was the one who really admired and cherished this beautiful girl. He knew he needed to love her with all his heart and Destiny knew he would. Destiny finally realized, dreams come true, adventures are yet to come and her love was needed for someone special, never to be misused or forgotten.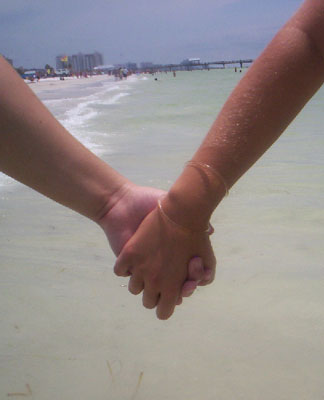 © Belinda H., Palm Harbor, FL