Eris.
December 30, 2017
"Eris!" I cried out, "Where are you, Eris?" I coughed and shut my eyes as smoke engulfed my face and made its way into my nostrils. "S***!"
She was still in the car. I tried to run toward the smoldering vehicle, but a wave of pain coursed through my leg, forcing me to crawl. Even as my broken limb screamed for me to stop, I dragged myself over to the door; which had been warped and melted so much that it could barely be opened. Despite the intense screen of smoke, I crawled inside. I found her body in the passenger seat, wrapped in a half deflated airbag.
"Eris!" I called out to her. To my relief, she slowly opened her eyes and looked at me.
"Toby…" she said, her voice raspy from the toxic fumes.
"Honey, do you think you can move?" I asked her. She shook her head, and I felt as though my breath had fled my body. I reached for her hand in a desperate attempt to pull her away from the wreckage, but she shook her head once more.
"Toby, I breathed in too much smoke, even if I make it out of this car, I still won't survive. You need to get out or you'll die too."
I didn't know what to do, I couldn't leave her there to die, but she was right, I had already inhaled a lot of smoke and I too began wheezing uncontrollably, if I didn't get out we would both die. "Please…" she said "I don't want you to die for my sake."
"Eris, you can still be saved," I said, choosing to believe my own words. "If I can get you out of here the ambulance might be able to help."
"Toby don't die! Live for me, okay?" She said, her coughing only worsening. "I'm finished, but you still have a chance, if you live, I can die happily, do this for me, this is my final request."
With great effort, she leaned towards me and kissed me on the cheek. It was as though I was fighting a war against myself. Half of me refused to leave her side, but there was a part of me that knew that it was no good. I made a decision that would cause me to loathe myself for the rest of my days.
"I love you," I said to her; and that was the last time I would ever speak those words. Forcing myself to honor Eris's final request, I climbed out from the wreckage and let my body fall to the ground. As I did, something tumbled out of my pocket. It was a small red box.
With a burnt, trebling arm, I reached out and pulled it closer to me. Inside it was a platinum ring topped with a small crystal clear diamond. I should have given it to her sooner, there was nothing for me to be nervous about, she would have said yes before I even finished the question.
I could hear the sound of sirens growing closer. As I waited for the ambulance and police to arrive, I saw another car nearby; it had been badly dented, but the man who was driving it was unharmed.
"It wasn't my fault." I thought, feeling a rush of rage and grief take possession of my mind "It should have been him!"
I slowly began to close my eyes, but I had to fulfill Eris's last wish, I had to survive, but try as I might, I couldn't stay conscious anymore. As my grip on the world began to slip, I thought to myself "No matter what happens to me from here on out, no matter what I go through, I'll never say that I lived an unhappy life, because she was part of it. I will always be glad you were part of my life, Eris."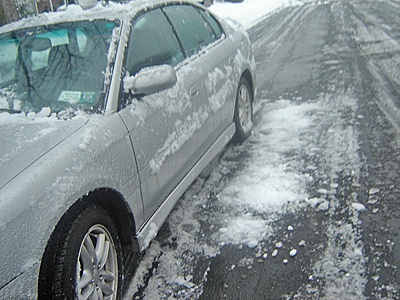 © Allie S, New City, NY