Airport Scene
MAG
December 28, 2017
I marvel for a moment at the way she looks when she's trying not to cry. The glossiness in her eyes is hypnotizing. It feels wrong to call them brown, because they're not just brown anymore. They're the color of fresh-watered soil, the color of earth, the color of life, the color that reminds me I'm human. I follow a single tear as it dances across her cheek. As a kid, I never minded long car rides in the rain, because to pass the time I'd count the raindrops as they slithered down the window. In February rain, I sat content for hours in the backseat of my parents' hatchback, but I could spend an eternity watching tears trickle down this girl's face.

One thing about Tallulah is she never hides what she's feeling. A hundred emotions compete for airtime on her face. She settles on one. Anger, I think. I barely notice her fists making contact with my chest, as she begins to mutter I-love-you's and don't-leave-me's. Each word is a dagger. Every fiber of her being pushes against me, while I stand paralyzed in a miserable delirium. I feel as though the rubber in my sneakers has melted and cemented my feet to the linoleum floor, damning me to spend the rest of my days in airport purgatory, as Tallulah bangs against my chest. She just told me she loves me. And all I can do is stare. All I can do is follow the raindrops in silent entrancement as they cascade over her skin.

"This is the final boarding call for flight D396 to Los Angeles. Please proceed to Gate 3 immediately. This is the final boarding call for flight D396 to Los Angeles. All passengers please proceed to Gate 3. Thank you."

Perhaps the vacancy in the voice emanating from the building's sound system is the cause of Tallulah's surrender. Perhaps it's the vacancy in my expression. Regardless, in an instant she collapses into me and I feel her fists relax against my chest. Suddenly I'm not holding her back, but holding her up; and instead of hitting me, she's wrapping her arms around my neck. And I kiss her. God, do I kiss her. I kiss her like it's the last thing I'll do. And I pray that it is.

It takes all my strength, every muscle, every inch of me to pull away from her. I look for the earth in her eyes one last time before rooting around in my backpack for the copy of 100 Plus American Poems she read to me that night at the Iliad. Finally, I'm able to get three words out, even if they're the wrong ones.

"Don't forget me."

"Never."
She holds the book over her heart like she did that night, and I turn and walk away without hesitation. That's how I ended up in this goddamned city, and that's the only way I can leave it: without looking back.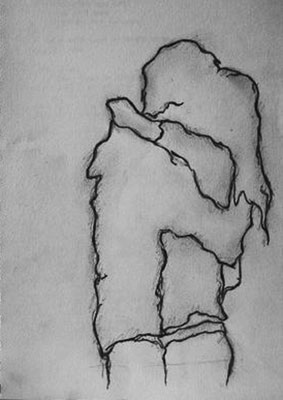 © Nicole B., Newcastle, WA