Love and Happiness
April 1, 2009
"Hey baby"
"Hey you" We said greeting each other when I got in to my boyfriend Aden's car.
Aden is the love of my life. I love every thing about him, his long black hair, his beautiful blue eyes. He's the most perfect boyfriend ever. But he did have his downers like he always did drugs, and stole stuff. I knew I was making a bad choice by being with him it was just that he was so sweet, and he always knew how to keep me smiling.
We were on are way to a biggest party of the year. It was just two week till graduation. I was excited because all I wanted to do was spend the rest of my life with him.
When we finally got to the party. We got split up I stayed with me friends Kayle and Halye they were twins they both had long black hair but Kayle had green eyes and Halye had blue eyes. That was how I told them apart. I was worried the whole party because I couldn't find Aden.I was supposed to drive him home. When the party was over I finally found Aden sleeping in the passenger's seat of his car.

"Huh! Where we at?" Aden asked when I opened the door. I put the keys the agnation, and turned the keys. After ten minutes Aden fell back asleep. I started to fall asleep while I was driving. Then I herd a car honk at me. I swerved over as I screamed. Then we fell off over the bridge in to the Mississippi river. When I woke up there was a bright white light.

"What? where am I?" I said in a confused tone. I looked around for Aden and he was no where to be found. "Where's Aden" I said in a scared tone.

"He's in an other place now" a squeaky voice said out of no where.

"What? Who said that?" I yelled out.

"Me, hi I'm Oliver, your guardian angel." He was small, almost like a new born baby he had big brown eyes and a halo on the top of his head with a white dress. And short blond hair.

"Hey?" I said confused. "What do you mean by guardian angel?" I asked

"Well you died in a car wreck last night with Aden." Oliver answered back.

"Did Aden dye to" I asked curiously.

"yes."

"Then why isn't he here?"

"Well we sent his to the under world."

"You mean hell?"

"yes."

"Ooo okay"

But we haven't figured out what to do with you because, for the most part you were good, but you still went out with Aden even after you knew he did a lot of bad thing in his life time" Oliver explained to me.

"Ooo," I said kinda disappointed in myself.

"So where gonna let you decide where you go. Hell or Heavan?"

"So in other word I have to choose between love and happiness?"

"Well when you put it that way yes"

"Okay well, can you give me a little while to think about this?"

"Sure" Oliver said as he left me.

I went over the pro's and con's of both places. Heaven had lots of happiness but no Aden. Hell Aden, but not much happiness. But I was still stuck even after I went over the pros and cons of the two places. I knew I was lost with out Aden in my life and I wanted to spend the rest of my life with him but I still needed happiness to. But Aden's love was all I need to be happy. After a while I made my decision. Then I just sat there and waited for Oliver

So did you make your decision, or do you need more time to think about it?" Oliver said when he walked in to the room.

"Yeah I made my decision"

"Okay lets here it" Oliver said with a smile.

"I choose…… to be with Aden"

"So you choose Hell?"

"Yes….. Yes I did."

"Okay well if that's the way you want it here you go."

Then Oliver pulled a lever and I drooped down to the under world. When I got there Aden was right there to greet me. I was all ready happy just to see him standing there. I had nothing to say I was just happy to be with him again.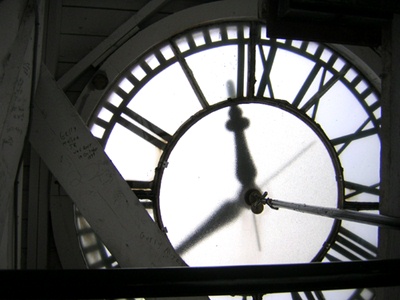 © Tatyana Z., Norwood, MA