it's never too late
November 11, 2017
If you had met me a year ago you would have met a shy, skinny girl, with cuts all over her skin. I grew up in a home with no one that cared about me. My mom was always drunk and my dad was never around. I was both parents for myself. I tried to give myself as normal of a childhood as i could, i joined clubs and teams at school, i participated in science fairs and stuff. No one ever came, the only one that did was my best friend alex. He always came to everything i participated in. Alex and i had a hideout in the woods that we spent a whole summer making, it took a lot of work but me made a pretty decent makeshift treehouse, and that's where we hung out all the time, when my mom got drunk and got scary, i ran to the tree house for safety and alex would stay with me and hug me until i was ready to go home, i remember we would fall asleep there some nights until his parents would come looking for him.
Those would be the nights that i loved the most because alex's mom would let me stay the night at their house and it would feel like i had a family, a real one. This went on from the time i was five, to last year. October 9th 2011 alex waited for me at the treehouse for hours and hours until he finally went to my house looking for me. My mom wasn't home but i was and the door was locked and so alex went to my bedroom window and saw me passed out on the floor with a bottle of pills next to me. I don't remember what happened after that but he tells me that he threw a rock through my window and opened the window and got inside, he picked me up and brought me to his house and his mom immediately rushed me to the hospital. Her and alex were crying because they were scared that they were gonna lose me.
Alex held my hand the whole way to the hospital, i was unconscious for 3 days and when i woke up, alex was still there holding my hand and crying, and when i saw him next to me like that i started crying i've never felt so loved in my entire life. He told me that he was there with me the whole three days i was unconscious and that he never left my side even though the doctors tried to get him to leave. The nurse came in and asked alex to walk out for one second. So he did and the nurse said "you're a very lucky girl, because not only are you alive right now but you have an amazing friend there that cares so much about you" she then proceeded to tell me that i was gonna be ok and i was gonna be able to go home in a day or so, and she kept telling me how lucky i was to be alive.
I kept thinking to myself why the hell am i alive right now? Alex came in right after the nurse left.
"Why didn't you tell me you were suicidal i could've helped you"
"Honestly i didn't think you'd understand"
"We're best friends we tell each other everything...well not everything"
"You're right i shouldn't have let it get this far i'm sorry..."
Then he did something i never thought he would do, he walked over to me and kissed me, like a kiss in the movies. It was absolutely amazing i didn't know if it was a side affect of being in a coma for 3 days but i swear i saw fireworks in the hospital that day.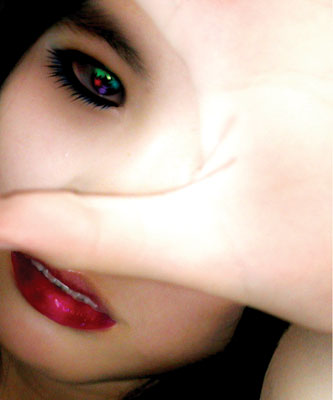 © Victoria W., Arcadia, CA