Everyone - Even A Ghost - Falls In Love
March 8, 2009
Sprawled across her unmade bed, listening to her guilty pleasure, Elvis Presley, rather than her "favorite" artist, Chris Brown, munching on Cheerios like there's no tomorrow, her hair in disarray, her pajamas ill-fitting, her glasses rather than contacts being worn, her makeup washed off, a girl does her math homework, even though it's nine o'clock on a Saturday evening.
In the corner of her bedroom, a boy lightly sits in an undisturbed rocking chair, smiling. He doesn't care that she's in a state she wouldn't let even her best friend of five years see her in, not only because he's seen worse, like when she caught a terrible cold and couldn't muster up the strength to take a shower for three days, or when she watched The Notebook and cried so hard that her makeup created unmatched raccoon eyes, but because he can't help but find that she's beautiful all the time.
He simply marvels at how quickly and effortlessly her pencil moves, even though she's only half paying attention. He can tell that she's distracted, but not by the music, because the foot tucked under her leg is twitching along to the beat rather than the one hanging off the bed, which is the one that twitches when she is immersed in whatever she is listening to.
He wonders what could be worrying her enough to make such a disconcerting crease form between her unplucked eyebrows and, unable to resist, asks, "What are you thinking about?" Like usual, but not always, her blue eyes focus suddenly and her gaze snaps over to the rocking chair, staring intently at the pale blue fabric behind him. "Up here," he whispers, hoping, wishing, pleading that she'll somehow meet his gaze. She's done it before, whether by accident or some strange sixth sense he doesn't know, and ever since, he hasn't let go of the unlikely hope that she'll do it again.
But she doesn't this time and instead simply stares suspiciously at the rocking chair, then shakes her head quickly, sighs, squeezes her eyes shut, tucks a strand of off-blonde hair behind her ear, and resumes doing her homework.
An hour later, she has put away her textbook and is reading a novel about a girl falling in love with the president's son. He glares at the book, frowning and tightening his fists. "So close," he whispers, voice jagged. That book mocks him, teases him as it reminds him of the day she'd bought that book, had picked up another book by the same author, a book about a girl falling in love with the ghost in her bedroom, had raised a skeptical eyebrow, and put the book back. It was times like that when he wished he could touch things, so he would be able to place the book in her basket so she would buy it and read it and maybe, just maybe, look for him the next time he called her name.
He has the same desire at times like this, when she is yawning and rubbing at her eyes in such a completely adorable way that it is impossible for him not to want to press his lips to her forehead, just once. He gets up from the rocking chair, not making it swing or creak because he hasn't actually been touching it, and moves to her bed. Even though he is barely three inches from her leg, she doesn't feel him there because the mattress doesn't sink under his nonexistent weight.
Carefully, ever so carefully, he places his hand on her knee so that his hand is just hovering over her sweats, close enough to feel the warmth from her skin underneath, close enough to feel the folds in the fabric, but not close enough for her to feel it, never close enough for her to know that he's there.
But, then, she gasps and glances down at her knee, eyes wide in astonishment, and he jerks his hand away, shocked. He knows he should leave now, after somehow crossing the uncrossable boundary between the living and the dead, but as she lifts her head to look up, up at the space where his head is, at the space where his eyes are, his breath catches in his throat and he finds that he is frozen on the edge of her bed. She continues to stare in bewilderment and he shifts his head to the right, barely half an inch, but just enough for her to somehow meet his gaze.
She inhales sharply and recoils into her pillows, closing her eyes firmly, then opening them again and peering into the space where she last saw him. But the moment, the connection, the knowledge is gone, as he knows it must be, and she soon gives up searching, as he knows she must do, but his heart breaks all the same, just a little bit more. He'll never give up trying, though, as love is far less fleeting than their eye contact. And that's all he is: a ghost in love.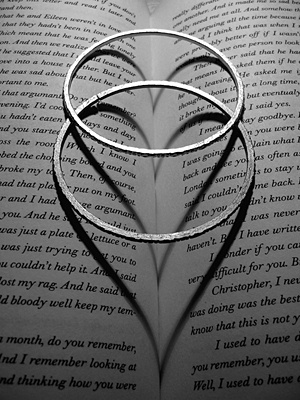 © Julia K., Old Tappan, NJ