The Park
March 7, 2009
The old rusty chains clinked as the met each other. The swing rocked back and forth slowly, but there was no one on it, and there hadn?t been for a while. Why did he send me here? Why did he send me to the old park that no one had been to in ages that was about to be torn down? Then I saw it. I found it by the twinkle of the wood where it still shined. I looked into the wood and read the words carved in it:

Sarah, you made the light shine in me. I?ll never forget you, but I have to do this.
-Jason

Jason was the boy who committed suicide last year. Jason was the boy with the shaggy brown hair and gorgeous green eyes. Jason was the boy who I fell for the moment I saw him, and obviously he liked me too. But when I had lost hope that he loved me, he had lost hope too and killed himself for that. I wished I had done something, said something before this happened. But I hadn?t.

The chilly August wind whipped my curly brown hair around my face. I kicked the dark wood where the blood stains were. Today I had gotten a letter in the mail, dated to a year ago telling me to come here. To see the words he hoped I would remember for always. And I would. I wrapped my coat around me tighter and looked around at the sight I hadn?t seen since I was 4. The yellow slide had lost it?s charm and the swings were now rusted and loose. The monkey bars were slippery and muddy. Nothing was like it was before.

I turned and walked away from the bad memories. The memories of before my father had died. My last memory of him with me, was in the park at 4 years old, and him having a heart attack. I could just barely talk and knew nothing about cell phones, but something told me to dial the number 911. So I did and they tracked down where we were from the cell phone. The memories filled up my head as I started to cry. Tears burst out of my eyes, and my sobs started to fill the silence that had been there for 5 years.

I looked down at my short little legs and raised my hands to the sky as the rain poured down. The lightning cracked and I saw the streak coming towards me. I could feel it?s heat sting my body with energy. I fell on the ground, almost like I was melting, and collapsed. No one would see me again for 3 months, when they tore down this park.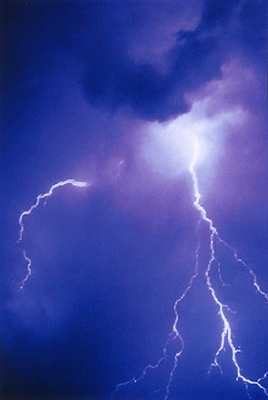 © Steve A., Goodyear, AZ