Heartbeat
October 19, 2017
It was a friday night out, my first big one actually.  I had finally broken my vow and agreed to go out to those parties that kids throw when their overbearing parents give them the relief of leaving for a weekend.  I put on an outfit that made me feel like a kid playing an adult; which also made me look like everyone else.  The warning beep of my best friends car reminded me to repeat the poorly constructed lie of whose house I'd be sleeping over and when I'd be home in the morning.
The kind of thing that would usually terrify me didn't even remotely compare to the dread I was feeling towards the long night ahead.  The cool night air hit my skin as I sprinted to the car, ripped open the door. I was greeted by the giggles and high fives as my friends babbled about how their girl had grown up.  Even with the words of encouragement, I felt the slight competition that is impossible to escape when even your closest friends are there for you out of convenience.
The leaves and rain struck the windshield with a deep intensity and the lights from the cars and store windows passing by made it easy to pretend that this car was all that existed; it was simpler to forget that the pressure to be perfect was a figment of my imagination.  That daydream was interrupted as the car abruptly stopped, the jackets came off, and the lipgloss went on.  Out the door they went laughing and ducking and complaining about their messed up hair as if that was their biggest problems.  I just tried to smile and nod along.
The dim lights and loud music greeted us like a heavy fog and sucked us into the stream of faceless kids lined up around the house as if they owned the place.  The truth is, they probably didn't even know whose party it was, or at least I didn't.  Names and ages didn't matter in this time stopping, psychedelic atmosphere. As long as I played their game and drank as if the rest of the world didn't matter I would fit in just fine.  I headed straight for the kitchen passing faces I immediately forgot and followed the example of my peers; I hated it as much as I thought I would.  Yet I still kept drinking.
The night got hazier as I laughed at things I didn't think were funny and forgot how to spell my name.  But then the smoke and the vodka and the reality of where I was hit me so hard that I couldn't stand up.  I just sat and stared, half awake not caring about the heckling crowd of obnoxious boys trying to take advantage of me in my drunken state. 
Then, like a candle in the dark, he floats to my side with a shocked look on his face.  I wasn't surprised by his confusion as the sight of me half conscious on the hard ground was completely out of character for me.  I had never felt so pathetic. 
He shooed away the crowd and asked if I was okay.  I just smiled cause I didn't know the answer.  He pulled me up by the waist and carried me outside, claiming that the fresh air would make me feel better.  Little did he know that just his presence had the same effect.  I played with the soft material of his yellow t-shirt, remembering all our childhood memories and wondering why we didn't talk anymore.  He was the only tangible person in my life, but somehow turned into the most unreachable.
With the thoughts in my head blurred, swirling and my judgement nonexistent I gripped the fabric tighter between my fingertips and sighed,
"I used to be completely in love with you".
Then I glanced up at his eyes and and down just as quickly at the full moon reflected off the puddle he was standing in.
"Tell me you don't mean that", he said sucking in his breath and tightening his grip on my side.  I just leaned my head further into his safety of his chest and whispered,
"Can you feel my heartbeat?"  The steady thump was the only answer he needed.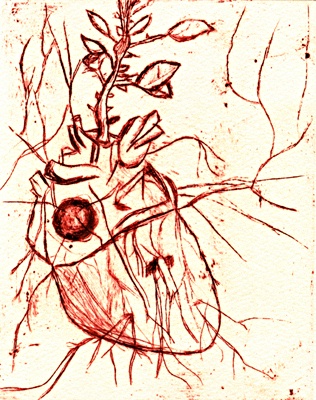 © Elaine S., Phoenix, AZ