The Sweat Speckled Relic
October 1, 2017
There's a baseball cap hanging on a brown peg in the very back of the closet in the corner of my bedroom. I've placed it behind my only winter coat- a mid thigh beast with a pleated collar that I've been told makes me look I'm picking up my middle schoolers up from soccer practice. The hat is an offset sky blue and its brim is crumpled slightly in the front, as if the person wearing it had walked into a door jam and not bothered to straighten it out fully afterwards. It's overwhelmingly sweat speckled and has a thin fraying tear where the clasp can be tightened in the back.

There's a lived in baseball cap living in the abscess of my bedroom closet That does not belong to me. In, truth it was never mine but still hasn't been owned in in a long time.

It was His. He was neither short nor tall nor ugly or stunning but what He outwardly possessed doesn't matter. It was the feeling He sent through me, the pain He could rocket into my eyes like a pint sized bowling ball that hammered around my skull before lodging itself down my throat and settling into my knees, filling them with white flames. My doctor says I have chronic leg pain caused by the abnormal growth of muscle fibers. I'm pretty sure the flames He sent did it. I was an addict looking for a fix, the typical first-loved shocked girl. I was the definition of cliche, a naive stereotype. Of course He didn't care about me. When is first love ever truly requited? There's about a million songs on it; most of whatever Shakespeare was writing about is the theory of unrequited love.

For a while I'd lay in bed at night and list off all the encounters I could siphon off of Him. I bandaged my fingers often, with gauze. He held my pinky finger in the curl of His bicep and flexed the bone in half. Wrapping and unwrapping, I'd call Him and we'd get along over our favorite music. His was death metal, then, so was mine. I'd decide on all the cool things I was going to say and how I was going to act that day. Would I be cool and collected? Or grumpy with a dash of spice. Yes, of course I lost myself in Him. He put me in a bottle and placed me on His shelf, next to the fish tank, with all His other inhalants. He took a lot of drugs, even then. I revelled in it.

Have you ever tried to position yourself throughout the day to always be in someone's line of vision? I cracked every vertebrae in my spine tilting my head just… right. My spine curved and my doctor says it's scoliosis caused by childhood horseback riding and bad posture. I know what really happened.

It smells of Him. The hat. Like a searing mix of gas station cologne and pizza.

Yeah, I'll sniff it sometimes, in passing. With longing perhaps, each time I catch sight of it I feel twine dripping in battery acid become tangled in my rib cage, it is ripped from my back.

Will I get rid of the sweat speckled relic? Take is off its peg for good? Donate it, trash it, or set it on fire? No. Doing so will only deny the memories. Of brushing fingers and sidewise glances. The time He called me while I was walking home to tell me I was the sexiest girl He's ever met. The time He tried to kill Himself with bloody fists on camera for me to see. It was my fault.

I'll keep the cap. I won't wear it. All I see when I put it on is His strong hands trying to make me dirty. If I keep it on for too long I can see where He succeeded. If I keep it in the closet, on its brown hook, maybe I can learn to live with it.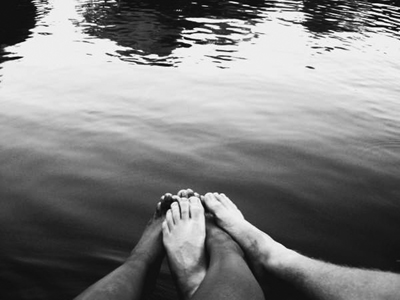 © Michelle W., Ada, MI