Coffee and Clichés
July 14, 2017

I'm a hopeless romantic. I dream of finding love in a coffee shop, over bitter sips and Bob Dylan. My wandering eyes will catch the guy in the corner, sitting lonesome and writing poetry on napkins. He is so engrossed that he has forgotten his coffee, now cold and doesn't hear the scratchy vocals of Dylan. He's the guy that will make me believe in love at first sight. Lanky and tall with dark, fluffy hair and tired brown eyes. A tiredness we both understand. Sitting there, his leg is bouncing up and down in a pair of worn out jeans. He removes his hand from his face, revealing a red mark on his cheek, letting me know he has been sitting that way for a while. He adjusts his glasses, rolls up the sleeves of his slouchy sweater, and I can just tell. 

This guy is black and blue stained fingers. This guy is sleepless nights and deep thoughts. He has an old soul that creaks like wood floors and the heart of a child filled with warmth, love, and innocence. He understands the frustration of 26 letters not being enough to say all that you want to say. He understands the loneliness that comes from being in a crowd of people. I know he'll understand me. So I get up and walk over, I figure life is too short to worry about looking weird, I've missed out on too much an I knew this moment was worth it. Let's just say if boys were gold, he was a diamond. 

I sit across from him but he doesn't notice. I look down and laugh because I'm like that too. I live in my own world, but I somehow manage to stay sane. I look at the smeared words on the napkin and read "I could never love a sad poet". 

"So, in other words, you can't love yourself" I say. He looks up at me, startled for a second, then runs his hands through a messy head of curls, which I imagine to resemble the inner workings of his brain. Our eyes meet and even though he doesn't speak his eyes tell me everything I need to know. I do the same. We both understand the words spoken in silence.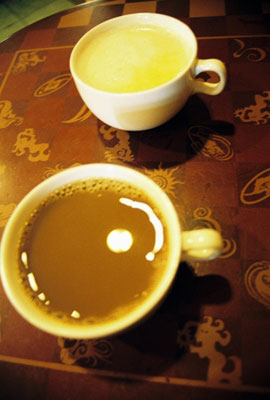 © Jaci S., Duluth, GA