To My Boyfriend's New Girlfriend
July 8, 2017
Dear new girl,
  Hi. To start off, there was a time in my life not too long ago where I thought I was going to spend my life with J. It was a rare and quite lengthy span of time where I spent every ounce of my day that I could texting, calling, or skyping J because he always made me so happy. The world faded away and all my other stupid teenage issues weren't on my mind, and I could be myself without the baggage. We met in an unusual way (online) and had a little distance between us (1,782 miles roughly) but it really didn't matter, we were inseparable none the less. He was my best friend, boyfriend, and soul mate all wrapped up into one dorky package who hated being called a dork for no apparent reason.  Then one day we went from skyping to living together in less than 24 hours.
Yeah… seems like a large step, and it was, but it happened for reasons he might tell you or maybe not but whatever he says it's not really the why that matters, it's the how. My parents have always been very supportive of our odd relationship, and when he needed a place, they offered basically a stranger their own room in our house for free, and tried to do everything in their power to help him succeed in this new step in his life. It was perfect for him, for me, and well my parents were happy because I was happy. My dreams came true when he first hugged me, and I fell in love for the second time.
How we got from then to now is beyond me, and there isn't a second that goes by that I don't wish I could go back to that short period in my life where everything was going up.
Either way, it's not J and I's relationship that we're supposed to be talking about here, it's yours. While he might not believe anyone else in the world will ever again love him, I knew someone like you would find him and tell him how wrong he is. He's gone through a lot in his lifetime, more than he's been willing to tell me in a year and a half relationship and more than I honestly want to know. He'll try and hide the visible scars for a while, but most of the damage isn't on the outside and once you know him, it's much easy to spot. But while he sometimes thinks that's all there is to him, it's not even 1% of what is actually him. The other 99% is the part that'll make you fall in love.
He loves debating. He will literally debate you on anything you ever discuss, even if he agrees with what you say. He loves history, especially the ancient Roman Empire. He loves studying all the old wars too which is why he plays pc games like Rome 2: Total war and watching movies like 300. He loves politics, especially when it involves socialism or communism. He isn't a communist or socialist, but does like to discuss the benefits of both and how parts could 'fix' America. He was a heavy Bernie Sanders supporter, and was the one who made me decide to support him too. He loves reading, but it sometimes gives him headaches so he doesn't do it very often, but would read the s*** out of any good comic book you put in his hands. He loves anime, especially all the sad romantic ones because I think he's secretly a masochist. He loves normal romantic movies too, but still leans for the sadder ones like Ruby Sparks and 500 Days of Summer. He likes animals, especially cows for no reason other than he thinks they're cute. He will literally look for them every time when we pass a farm, and will get super sad if they're not around. He likes shows like Family Guy and Rick and Morty, but mostly is obsessed with reading and watching Game of Thrones which if you've ever watched the show you understand. He listens to The Cure, Logic, Frank Ocean, Joy Division, Metallica, and a series of other sad 80's bands that I don't know the names of because I apparently have bad music taste. He wants to be in the Navy, and make his dad proud and serve his country.
But while I like to look at all the amazing parts about him, there are other parts you need to know. He's a hot head, especially when you go against him or things he believes deeply in. He doesn't like being accused of things (I don't know anyone who does though) and gets offended easily when he's in a certain mood. If you fight, he'll probably try and just walk away instead of talk about it, and won't come back for a while on his own. His motivation is somewhat lacking and if doesn't think he can do it, he won't try unless you make him. He gets super anxious in front of new people, and doesn't like hanging out in crowds no matter if you're with him or not. He can be really messy, and is somewhat like a baby giraffe or horse and isn't very aware of his body or his surroundings. He could be walking across a room with a glass of water and not even realize he spilled half of it on the floor, or does and pretends not to, and will fall or trip or kick something at least once or twice a day. He curses a lot, and there's really no filtering it, and used to deal with his issues by drinking and smoking, which did great things to his body that still haven't really gone away. He's also bad about his medication or going to the doctor if he needs to, because he doesn't always like acknowledging how sick he is sometimes.
But these things weren't the real reason we broke up. Life has a way of changing people, and the people we were in the beginning of our relationship weren't the same people who we are now. I've been hit hard these last four years by a lot of things, and while we did the best we could of getting through our problems together, I can only get over some of them alone, and the same with him. There's certain things we both have to do without each other, and those things are bigger than the relationship in a whole, but it doesn't mean we both don't deserve to be happy. We just have to be happy with other people. I don't wanna lose him, so I'm going to do my best to stay in contact with him even when we're apart because no matter what, he's still my best friend, and he always will be. So be good to him, because he deserves it, and if you don't I will hunt you down.
Kidding. Sort of.
Sincerely,
  S.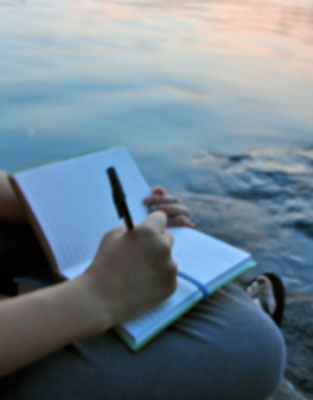 © Grace K., Port Washington, NY