Working Title (as in I have no idea what to call it)
March 25, 2009
"Molly!!! Come!!! Come Molly!!! Come downstair!!! Family meeting, Molly!!!" Izzy called to me from my door. I unwillingly set down my copy of Jane Eyre and turned off my iPod. When I came down the stairs, I saw Mom and Phillip sitting on the loveseat, Andrew engulfed in a video game, and Izzy now standing at the bottom of the stairs waiting for me loyally.
"What's this all about?" I asked her, slumping into my chair. Izzy shrugged as she crawled onto my lap.
"Andrew, please?" Mom said in that voice of hers that meant business.
"Kids," Phillip addressed us, "your mother and I have something important to tell you." He paused, glancing at Mom.
"Well? Shoot," I egged on, anxious to get back to the confines of my room.
"Well, the company I'm working for is in desperate need of expansion. We're already in some of Europe and parts of western Asia, but the CEO needs more. So, I've been reassigned to travel to Sydney, Australia."
I was speechless. As was everyone else.
Then I finally broke through first.
"Oh. My. God." Was all I managed to say.
Phillip started to say something, but Mom put a hand on his knee, stopping him mid-word.
"Where's Atralia?" Izzy asked, trying to pronounce Australia. I giggled at her lack of knowledge as she turned around to face me.
"It's all the way across the ocean," I told her, glancing down at her saucer-sized eyes.
"Whoa, that's far." She curled back around, sinking farther into my lap.
"So, seriously?" Andrew finally asked.
"No Drew, we're just pulling a prank on you," I retorted sarcastically. He didn't pick up on it.
"Oh, in that case why didn't you say so? You know, it wasn't a very—" I cut him off.
"I was being sarcastic, you idiot."
"Molly," Mom warned.
"So wait, I'm confused. Are we going to Australia or not?" Andrew asked like it really needed to be. Apparently in his case it did.
"Yes," Mom, Phillip and I all said at the same time.
"Yea Drew," Izzy said a beat late. I chuckled at her again.
"So, is that it?" I asked, dying to hide in my room.
"You're all very calm about this. Are you sure you're okay with this?" Mom asked us, seeming exceedingly nervous.
"Yeah, I mean, I've always dreamed of living in Australia," I said. Now that I've actually spoken the words myself, it kinda sunk in.
"Can I go back to my room now?" I asked, lifting Izzy from my lap and setting her in Phillip's. She curled up just as comfortably as she would anyone else's lap. I left without an answer, taking the stair two at a time. I heard the muted sounds of Andrew's video game come back on just before I blasted Hot Hot Heat again.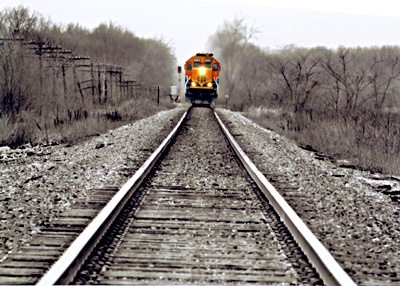 © Matt D., St Peters, MO