Tracks
May 12, 2017
I lay on the tracks, my back touching the chilled metal. I process my thoughts, what on earth would make me want to leave these tracks? They seem comforting and awakening, I put my headphones on, listening to the soft rhythm of acoustic music. It's like a hug from the mouths of other artists contradicting the bladed tongue of this generation. I close my eyes, this temporarily shields me from my problems of today. I'm half asleep when footsteps close in on me. A set, no more than two. I assume they'll pass and tell myself to calm down but they don't. My eyes flicker open, staring at the figure approaching me.
"Hello." He says, but I stay quiet.
"Hello." He states again with a bit more emphasis. I wave to him slightly to acknowledge that I saw him and he walks over to me… Great.
"What are you doing?" He asks.
"Waiting for the A Train." I reply, a bit more soft than I originally intended.
"You sure you want to find sugar hill? Harlem is pretty far away." He smiles, and sits down beside me. The comment intrigues me, how did he know that song. It's not new, it's actually one from at least the 1940's… Hmm.
"It's not that far." I assure him.
"How far is Harlem." He asks carefully.
"Halfway to heaven." I say assuming I sound like an idiot. He pauses momentarily thinking about it… Then decides to respond.
"So do you plan to move off the tracks?" He says softly.
"Not until they remove me." I say cheerfully. He pauses…
"Suicidal?"
"Yeah." I reply.
"So am I, or at least I was." His voice drops an octave.
"I'm battling depression." He corrects himself. I stare at him with empathy, waking up everyday only to face those monsters yet again… That's tiring. Especially, when your monsters have the best of armor, and diamond swords. And what does life give you? A stick, a stick to kill your demons. What do you do with a stick?
"How do you deal with it? I mean to fight your monsters when life f***s you over, and hands you a stick to fight with." I ask, and he smiles.
"I will gladly take the stick life hands me." He pauses.
"But then I sharpen it, and carve the ends… Eventually I'll have a wooden dagger, and a decent defense." I never thought about it that way, ever. I offer one of my ear buds to him.
"Wanna listen?" He nods and places the one earbud in his ear.
"So do you always go to the tracks?" He asks.
"Sometimes, mostly when everything becomes too much, and the train… It's so peaceful, and carefree. You could jump on and go anywhere; that's why I love the train tracks… they remind me of that." I say, finally saying something real for once.
"Agreed." He says hesitantly.
"It also let's you experience new things, and meet new people." He smiles.
"We met here." He says softly.
"To bad the train doesn't go through here anymore, i'm in dire need of new experiences." I laugh. He removes his earbud, taking out his phone.
"Here, get up off the ground." He laughs.
"Why?" I ask. He glares at me, and smiles. "You'll see." He replies, setting his cell phone on the ground. A soft song plays, familiar lyrics pass their way through my brain and I smile.
"I loved this song." I can feel my cheeks glow a soft shade of red. He holds out the palm of his hand.
"May I have this dance." He asks.
"I can't dance." I laugh. He nods and sighs.
"Then you can step on my toes." He smiles, he's really trying; I recognize that, so I nod.
"Okay." I say taking a breath. He grabs my waist softly with one hand, and places the palm of my hand in his. He somehow manages to tiptoe around although I stand on his toes. He laughs each time he looks at me and his eyes gleam with actual happiness, at least I think that's what it is. He smiles, and raises the hand enclosed with mine; and I turn spinning in a circle, I think that i'm good but then my ankle catches and I trip… Pulling him down with me.
"Are you okay! I'm so sorry." He says, a small amount of blood glistens on my leg. I lay on the ground, my back against the warm gravel. My knee I scraped it, but I don't feel anything. In fact a smile crossed my face as I laugh.
"That was the most fun i've ever had for the longest time." I reply. I look over to him, his worried expression turns to a smile, and he begins to beam with happiness.
"Thank you." I pause, he nods and sits up and stares at me, his teal colored eyes focused on mine.
"What's your name?" He asks softly. I've been talking to a total stranger and not once did it occur to me to get his name.
"My name is Scarlet." I manage to speak. "Yours?" He runs his nimble fingers through his hair, golden locks falling out of place.
"Nash. My name is Nash." He says softly.
"Miss Scarlet, Would you care to add your number to my phone?" He laughs. I think about it, he seems sweet. But I also just met him… 5
"Of course." I say simply, probably against my better judgement. He hands me his phone, and I add my information, as I hand the phone back to him… His hand touches mine. For a second, a mere second; he smiles; but it quickly vanishes.
"Will I see you here again?" He asks.
"Maybe." I smirk, and as I turn to leave I smile.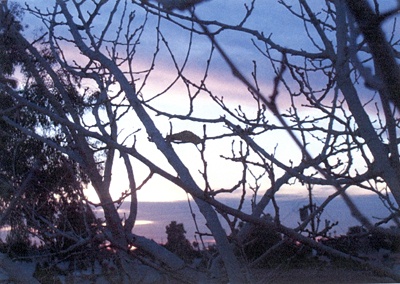 © Delia R., Phoenix, AZ