The Never Tangible Person
May 8, 2017
He taught me the word tangible. He told me it meant to be able to hold something. Like an apple is tangible but emotions are not. It was one of the words I had heard all my life but never met. Just like him, I always knew him in my head like he repeated throughout my life finding a root within my mind but never being acknowledged or questioned. I was comfortable with it being there and not knowing what it actually was. Until I started wanting it. I started wanting him but I didn't know his definition. What words could perfectly fit him.

It's like when you see someone and their voice sounds like something else from what they look like. When I saw him I didn't know he was that seed in my mind. When I learned his intricate details and how he worked his words, how to understand his existence I remembered how he was shown in my dreams and displayed in my imagination. I remembered when he wasn't tangible and when I was a child. The only grasp I had on the world was my imagination and the small information I had of it. I was never really comfortable with the unknown it seemed aggressive and mean. But I never knew him and he was always so soft in my head sitting there kindly. Waiting patiently for me to come over and read his definition. He was there in my head waiting with me. I remember his form being nothing but a symbol. When I couldn't touch him and explore his galaxy like aura. But now that I can, I feel strange about myself. Like he is the most tangible part of me. Like I was never here in reality to begin with until I was aware of what it all meant and of who he was.
Now I am just as unholdable to other humans just like emotion, a dance or a conversation between a mother and a child.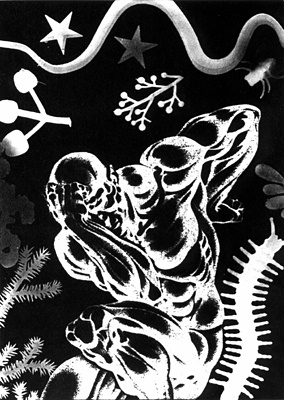 © Jessica S., Aberdeen, SD