I Am George/Heart Rot
May 8, 2017
I am a George. Bah, what a terrible name; George. I should have been a Werther. It is fitting. It would have been fair.
But life is not fair. Not fair in any way shape or form. Can't have what you want but life will tease you with it, like dangling sweets before a young child.
God. What is it. Is it there. If he is then this must be his sense of humor. Ruin me and make me your royal jester, to poke me and tease me.
I love Annabelle but already promised she is. She may not be the fairest in the land but she is the best to me. But does she love me?! NO!
IAMDECENDINGINTOMADNESSFORILOVEHERBUTSHECAN'TBEMINE
Does she love him? Yes. She loves the big moron. She loves the fool, but rejects. Me for I am nothing.
Caught up in a triangle, won't stop until someone is let out. I SHOULD kill the b*****d, but then how would she look upon me?
No I must go away. The mountains are nice this time of year. But first I will need to gather supplies for my trip.
Good night and goodbye to the world,
George Dear George,
I received your letter when we found you in your house and I knew how you felt but not how strongly. If only i knew what you truly meant when you asked for the guns for your trip. Well you were correct about the mountains, they are beautiful, so we buried you there. But there was one thing you were wrong about; I do love you, way more than I love the 'moron' as you call him. But I was promised and trapped and couldn't be with you. Oh well, I wish we could be together in the end. Maybe there is a God.
I am leaving this in your coffin, so you can understand.
Love forever and after,
Annabelle
P.S. One thing you overlooked. When you got 'the moron's' gun, you forgot I had my own. I will be with you soon….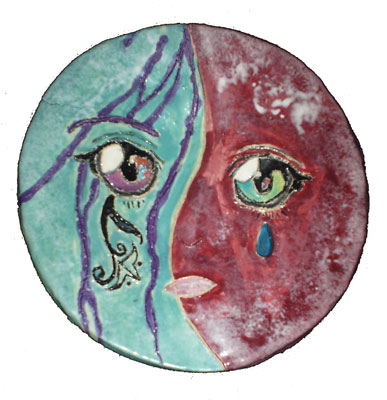 © Angel V., Tecumseh, MI