Born with a Rose
May 3, 2017

I was sixteen when my mom first tried to get it removed. She called it a unique birthmark. That is what she has me tell people. We aren't sure what it is really, but I had a unique attachment to it. It was part of me. It was a tattoo without the pain. A red rose with vines cascading down my arm like a waterfall. Aging like a tree, it grows with time. Bright against my pale skin, it can only be hidden with a sleeve of conformity. A sleeve that nobody will question.

The doctors said they wouldn't risk removing something so odd at my young age. They said that it was beautiful and I should embrace my "birthmark". I sighed in relief. The only issue is my family was finally going to the beach for the first time in years, if we can't get it removed, I won't be able to. It will be another summer without an adventure. My tattoo is holding me prisoner. Keeping in my uniform of everyday life. My family held in a cell of protection for me. Something I love put us there, I put them there.

We walk out of the office and I apologize. I apologize that I wasn't born perfect. However, I am not sorry, I will never be sorry. I can't pretend to be perfect. I am sincere about the cell I put them in.

I walk into my home to see luggage fills the hall. Are they going to leave? Have they bailed themselves out? My dad walks out with a huge smile. It's scary how my heart's racing and feels like it's going to break down. His smile is a lie. A lie for my sake. He hands me a bag.

" We're going to a little island paradise."

I jump in excitement. I hug my parents and throw everything in my bag. There isn't anything I won't need. I don't have a swimsuit, but I'm sure we'll get it later. The flight alone is an adventure, and it's only a little over two hours. Escaping my landlocked state of Wyoming into sunny San Diego. A city where the sun shines and surfers are worry free. I drift off into a peaceful sleep as i stare at my arm, for it's the first time it has been bare for as far back as I can remember.

I wake up to my dad shaking me. He points at the window I rest next to. The ocean is beautiful, but the sky isn't what I expected. The clouds cover the sun and makes the image I see before me seem mysterious. A mysterious adventure that I am excited to unlock.

Eventually we arrive at a beach house where we will stay for a week. My parents must have spent a fortune, and they probably saved for it for a long time. My dad offers to unload the car while we walk by the shops on the pier. After all, I need a swimsuit. My swimsuit is a one piece aztec print suit. My mom wanted me to get a rash guard in order to cover my arms, but in California my "tattoo" isn't even looked at oddly. The cashier even complimented it. It's been a long day and sleeping to the sounds of the ocean is easy, but my heart fills with excitement for the day to come.

I wake up in the morning and rush to put on my swimsuit and braid my hair. I have never wanted to do wake up early before, but I can make an exception for now.

My mom warns me to not go far out and that they will be out soon and I walk onto the beach. People pour onto the beach, and there is such a diverse amount of people I have never been more excited. I glance at my arm and the rose looks odd. I shrug it off to go into the water.

I am wading in the cold ocean when I look up and see a frisbee heading in my direction.

All of a sudden a guy slams into me. I fall into the water with a thud. I look up in a daze, ready to yell, but too stunned to say anything. I couldn't believe that someone could do that. An arm reaches out to help me up. It's the lifeguard. He was cute. I begin to wonder if all California guys were like that. I look around and quickly changed my mind. I do suppose that is part of the diversity. He had dark hair and a tan from being at the beach. He asks if I am alright and I answer that I am and wonder why the guy who ran into me isn't here to apologize.

The lifeguard walks away and I turn around to see the culprit. A blonde guy with blue eyes stares back at me. I roll my eyes and begin to walk away when he grabs my arm. I look at it to see the rose shrinking….
He apologizes and I look at his arm he has the same tattoo in the same place and it appears to be shrinking as well. The sun must be getting to me. I accept his apology and walk to an umbrella that I had set up beforehand.I fall back into the sand and close my eyes. Suddenly the peace of my daydream is interrupted with a thump.I assume my parents are finally joining me on the beach, but I open my eyes and it's the boy with the frisbee.

"Hi I'm Eli."

I was startled but begrudgingly told him my name was Elizabeth. However, what was more alarming was when he asked to see my arm. I showed him my tattoo and he stuck his arm out as well. Both marks were disappearing.

My parents walked up to us and I put my arm behind me quickly. They couldn't see. I asked to be excused and walked away with Eli. I had to figure out why the mark was changing. It was fading fast and I didn't know what to do. Neither did he we spent the day trying to figure out what we could possibly have in common that this was happening.

We continued to try to puzzle it over the next couple days that I was in San Diego. I found out that he was a really great person, but too soon the rose was gone from my arm. I felt I had lost a part of me. What I thought was an issue, had turned out to have been my best feature. The day I left I went to the beach one last time to find Eli. I found him and hugged him so long despite he was covered in sand and water. I looked up at him and kissed him. When I pulled away I noticed something. He had a small new rose on his chest. Where his heart would be. I later found out I had the same.

I will never try to get it removed, because I know that when we see eachother again, he will have it. It's no longer our "tattoo" or "birthmark", but the mark of our soulmate.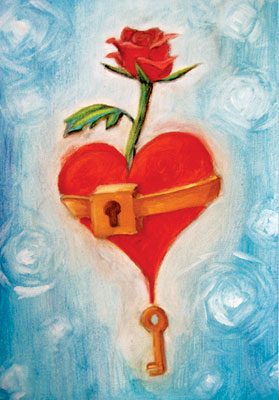 © Louisa L., Pleasanton, CA