Dusk.
March 22, 2017
There's a time, at the end of each day, where everything is absolutely, heart-stoppingly perfect. It's not too dark yet, as to where you can't see anything, but dark enough that the streetlights flicker on. The sky turns a muted blue-gray and the air is still warm and inviting. Everyone romanticizes beautiful sunsets, with a full spectrum of vibrant, amazing colors that light up the sky like a firecracker. I prefer the time right after, the in-between, less intense than the sunset, but not as lonely and stark as the night. It makes anything seem possible and for all of my sadness and troubles to melt away like a candy on my tongue.
We were driving--slightly too fast, at that, but we didn't care in the moment--down a straight, open road. His hand rested on the bottom corner of the large, faded leather steering wheel, his other on the console. That was the one adorned with a single, etched, silver pinky ring that glinted in the fading light. He wore a faded blue tee shirt that contrasted his smooth, sun-kissed skin, and his low eyes kept a soft focus on the road ahead. The windows were all open, letting in the racing warm air which carried my long, flowing hair along with it, making it float along the currents. I closed my eyes and felt the wind envelop every inch of the skin on my face, down my neck, across my shoulder blades, and under my gray lace dress. The white lines on the road seemed to stretch longer than usual and I gazed at them, infatuated with their infinite sharpness against the gray asphalt. Everything was serene, as if we were on another planet, in another galaxy, far away, beyond the clouds, without any pain, or weakness, or conflicts. Him and the music from the classic rock radio station blaring out of the speakers and the summer breeze on my face were the only things I could feel or think about or care about, and I felt like the moment could last for at least a million years.
I found myself turning to glance at him, noticing his permanent hint of a smirk on his lips, long eyelashes, and enough freckles to make up a solar system across his nose and cheeks. He turned and met my eyes, and blinked slowly, giving me his lazy half-smile. I felt my lips stretch into a smile, unable to conceal how perfectly content and at peace I felt in that moment. I leaned back into the beige leather seat, feeling it swallow up my body like a warm shot of whiskey, sinking deeper with each breath. I looked back over to his hand on the console next to me and I reached out and traced the veins that delicately ran up his forearm, feeling the heat pulsing under his skin.
We sped through the outskirts of the city, crazy and free, gliding over the roads and the hills, until we reached a place that wherever you looked, there was nothing but vast, open land, empty and still. We didn't have a destination, and had no idea how we ended up where we were, but we kept driving, unaffected. I felt electricity and fire flowing through my veins like a cloud of smoke dispersing through space. I softly breathed in the last of the clean, bright, day air as it started to get darker and darker. It was no longer the tranquil time between the sunset and the night, but all I needed was him, and the feeling I had running through my bloodstream, and I knew that feeling would last until the end of time, like our own, perpetual heaven on earth.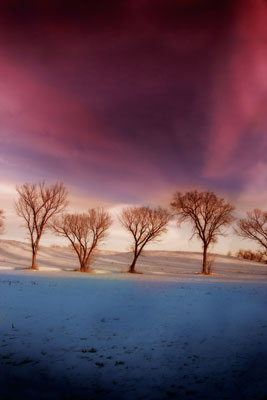 © Elizabeth H., San Bernardino, CA