Happy Anniversary
February 27, 2017
This was it. The special day he'd been waiting for. The day he had planned for a dreamed about, and everything was going according to plan, except their happiness. Why couldn't everything just be perfect like they thought it would be? How did every day turn into screaming silence and hollow shouting? But there was no need to worry anymore. He had a plan to remove every last trace of a problem.

She gets off work at six o'clock, and she would be home by six thirty, so everything would have to be ready by then. He had made a few mistakes in the past; in their relationship, in life, but he knew this wasn't going to be one of them.

Step one for the perfect night: the setting. The comfort of home, right at the kitchen table. Their best china and silverware for the best occasion. A deep red tablecloth, their wedding wine glasses, and one candelabra with three perfectly lit white candles. Step two: music. More specifically, their weeding song, on repeat, playing low in the background. Step three: an entrance. Black suit, white undershirt, black tie, and his best dress shoes. Holding one beautiful red rose at its prime, for his beautiful wife at hers. Step four: last, but not least, most likely the most important aspect of the date, the dinner itself. A tossed salad full of vegetables, grilled chicken with pasta and alfredo sauce, bread with olive oil, and her favorite red wine.

He came home from work early that day, and after going to the store for all of the ingredients, he began to prepare the meal. He would spare no expense to carry through with tonight, and he would take no chances. After following various recipes, chopping, slicing, dicing, mixing, stirring, pouring, measuring, and a few special ingredients, he was finally "cooking", in both senses of the word. The bread in the oven, the pasta on the stove, the wine in the cooler, and the chicken ready to go, he cooked with the passion that he had for her in his heart. He cooked and slaved in the kitchen for nearly three hours, making sure everything was perfect for when his love came home.

By the time six o'clock came around, he was setting up the table, and checking off the many items on his mental checklist. At six fifteen, everything was set, and he had changed into his suit. At six thirty, the expected time for his love to be there, he waited at the door with the rose in his hand, hoping to hear her footsteps at any moment. The moments went by, slowly, but finally, at six fifty-two, he heard her small, delicate footsteps creeping up the staircase. As she reached for her key in her back pocket, the door swung open, and she saw her husband standing there, to her surprise, with a smile on his face. Without a word, he took her bag, he took her coat, and he pulled her in for the tightest hug he had given her in a very long time. He whispered quietly in her ear, "Happy Anniversary." With shock and confusion written all over her face, she said, "I thought you had forgotten." The smile he gave her in return was as smooth as silk, but a silk curtain that seemed to be hiding something. "How could I?", he asked, "I've been planning for this day for weeks. I know I've screwed up lately, but tonight, let me fix all of that, and let me make up for it. I promise tonight won't be one of those mistakes."
He took her hand and led her to the table where he pulled out her chair for her, and brought over the salad and bread. As he poured her a glass of wine, she couldn't help but wonder what had transpired that he was suddenly kind, caring, and considerate. This was the first time that he had ever done something romantic and thoughtful, at least since their marriage two years before. Before she could question him, he sat down across from her, and uttered three words that had never come out of his mouth in that order before. "How was work?" She pushed aside her questions and doubts, and answered him. Maybe it was the setting, the focused look in his eyes, their song playing in the background, or maybe it was something in the food, but as they sat and ate, she could feel the tension and intolerance that had built up between them over the last several months melt away.

After the pasta, chicken, and most of the bread were gone, they were nearly too full to continue, but he insisted on one last glass of wine, and a piece of chocolate cake he had ordered earlier in the week. He took their glasses to the kitchen, careful to refill them both to the rim, and cut a piece of cake, and brought them to the table. As she drank and ate, he spoke delicately about their future. "My love," he said, "I want you to know that things are going to get a lot better, very soon." She began to feel slightly queasy, but she blamed it on the fact that she had eaten so much. Her response was short. "You've said that before, but we've had fight after fight, for months." He held her hand and replied, with almost a grimace creeping across his face, "We won't have to worry about that for much longer."

She was about to question him, but the words were taken out of her mouth by a sudden cloudiness in her vision. The queasy feeling grew stronger, and she became dizzy as all of the color was washed from her face. She rose to leave the table, but fell to the floor, limp and still. He went to her side, bent down, and checked her pulse, nonexistent in her still warm neck. As he pushed her hair back from her cold face, he looked into her hardened eyes and whispered, "Happy Anniversary."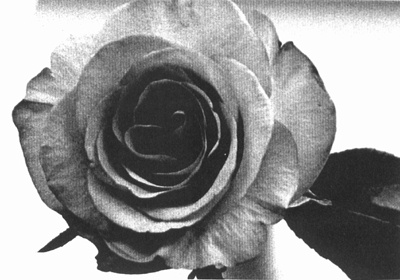 © Liza C., Seattle, WA