The Long Wanted Wish
February 9, 2017

I've been wanting to tell this for a long time. We have been best friends since I was seven and he was nine. We were so close: we went everywhere and did everything together. When I was twelve Ryan started to act differently, he would always smile at me and bring me a flower every time we would meet up. I just graduated from high school and about to leave for college in a couple of months. Ryan and I decide to go to the beach and celebrate. Once we got to the beach Ryan says, " close your eyes." " Why" I ask. I close my eyes and followed Ryan. When we stop and I open my eyes I see a beautiful candlelit table.
After dinner, we dance to a slow song. While we are dancing, Ryan whispers " Rose will you go out with me?" " Of course" I reply "I've been wishing you would ask me that for a long time." I lay my head on his chest because I am so happy that we are finally dating. Ryan asks me " how long have you been wanting to date me?" "Ever since I knew what true love is" I tell him. He says, " I have been wanting to ask you out for a long time now I just didn't think you felt the same way and I also didn't know how to ask you." We talk for awhile and then we go back to Ryan's place. " I'll sleep on the couch till I go back home" I say. Ryan says, " No it's okay, I just want to talk for awhile.
So instead of going to sleep, Ryan and I stay up watching scary movies and talking about all of our feelings for each other, it was three in the morning so I went to sleep. The next day I didn't wake up till twelve in the afternoon, so I got on snapchat and saw that Ryan took pictures of me asleep on his chest, and you started to cry. He heard me crying so he ran out of the shower saying, " What's wrong Rose" while walking to you to hold you. " I just can't believe I've found the right guy finally and I'm crying because you make me feel loved and make me feel like someone cares for me" " I have cared for years now and I would've been broken if I lost you Rose, I love you more than anything in the world" says Ryan, " I love you too" I answer.
Three years later Ryan and I went on a date to his favorite hiking spot to watching the sunset. Ryan's twin brother Chris was hiding in the bushes, but before the sun was completely down Ryan stood up, so did I. He started to talk about how much he loved me and then got on one knee and said " Rose you've made me happy since the first day I meet you, so will you make me the happiest man alive and MARRY ME?" I started to cry because I was so happy and I say " YES, of course," he stood up and put the ring on my finger and he hugged for a long time. Finally Chris came out of the bushes and said " Here Ryan, I'm happy for you guys"
The next day Ryan and I went to my mom's house, as I walk in I say " MOM come here please" " what is it Rose?" she says, I told excitedly "Ryan and I are engaged" "Congrats guys I'm so proud of you two, hope all goes well for you guys, love you Rose and Ryan." "Love you to" Ryan and I say. We walked across the street and Ryan says " go to the back yard and I'll get my parents," so I did. They all four walked out to the back yard; Ryan's parents, Chris, and Ryan. As Ryan was walking to me he stopped and stood by me and says " I have a big announcement, Rose and I are engaged." " That's amazing, so when's the wedding?" Ryan's mother ask, " Well we haven't set a date yet but hopefully soon" I answer while hugging Ryan.
Months have passed and it was my and Ryan's wedding day, and I was so happy because I got a gorgeous wedding dress and everyone was there. It was time for the wedding to start and my brother, that I haven't seen in years, was waiting to walk me in. We said our vows and lived together happily and forever. Then I woke up from my amazing fantasy, and had to go back to my boring and lonely life.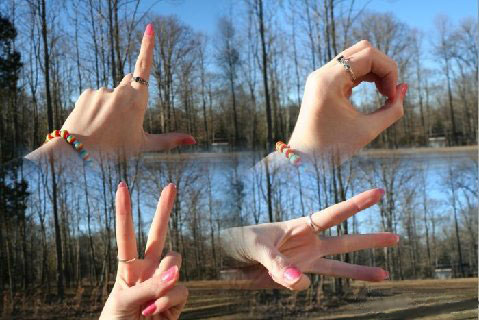 © Kayla D., Croydon, IN