The Wilted Rose
September 14, 2016
Once upon a time, in the name of beauty a beautiful girl with marvelous green eyes, cherry lips and long brown hair called Charlotte. She lives in small peaceful valley in Italy full with happiness ,and joy. Charlotte love to go to small lake surrounded by shining roses with different colors of red, white ,and pink. Every morning she likes to sit down between the roses ,and smell the breeze. While there are a brave ,and handsome man called Fernando love to stand every morning to watch Charlotte between the roses with the bright mist around her. Fernando's heart start to beat ,and his eyes is trickling water mixed with love. He decided to plant a rose to give it to Charlotte. The rose started to grow ,and shine with the all means of love. Every morning Fernando stands beside the rose ,and start to cry with heavy tears that combine passion with hope.
One day Fernando decided to pick up the rose and give it to Charlotte. Charlotte was very happy with the rose because it looks beautiful with wonderful smell. She knew that Fernando love her ,and he stands every day to watch the rose growing up with tears that flow from his eyes carrying his love to her. Fernando was so happy because he knew that Charlotte love him ,and he wishes if that love cold live until the end of the world. The next day, with darkness ,and heavy rains that may be equal to the tears of Fernando that full of love. A big truck loaded with a lot of sheep came with fast speed on small road between the green lands. While Charlotte was crossing the road think about the rose of Fernando. At the same moment Fernando saw her. He started to run ,and shout with loud voice with the name of Charlotte. The truck now is very close to Charlotte ,and he jumped.
Finally, Fernando with his last words ,and hopeful tears said "I love you Charlotte". Charlotte ran fast toward the lake surrounded by the roses ,and the tears covered her beautiful face. She sat between the roses in overwhelming sadness ,and hugging Fernando's rose toward her heart. After passing two days of sadness ,and sorrow the rose started to wilt because the tears of sorrow flow inside the rose. When Charlotte looked to the rose in astonishment she realized that the rose became weak after Fernando's death ,and she said " tears are not only water. Tears are feelings, hope ,and love that provide nature with happiness ,or sadness".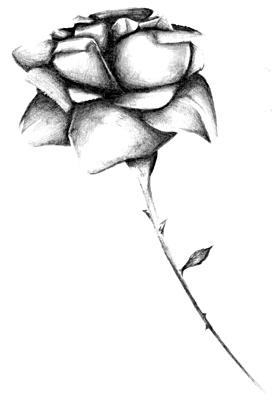 © Yisrawayl G., Philadelphia, PA