Lexie and Eli
March 5, 2016
I sat there frozen as I watched him talk to families gathered around the chapel waiting for the wedding to begin. He looked different from the three years we had been apart: older, more confident, at ease. He still had the same handsome dirty blonde curls and brown eyes He didn't see me, I knew he wouldn't.
My hair was cut short now, no longer the long brown waves that used to rest at my hips, now it sat professionally at my collarbones. My mother decided  I should cut it before my interview with Harrison and Clark Hospital. She was right; the cut gave me the appearance of someone maturer.
I was wearing a new dress. It was strapless, lavender, sitting just above my knees. The dress was a gift from my mother. Actually, the dress was more of a command. She sent it in the mail with a long letter. A letter that stated the importance of my attendance at the Morgan-Campbell wedding.
So here I was, waiting to sit on the groom's side of the chapel waiting once the wedding  began. Henry Carrington stood just a few feet ahead of me. He too looked older even though it had been only a couple months since we parted. Georgiana stood beside him in her bridesmaid gown, her hand clasped in his, laughing flawlessly as she spoke with friends. When she caught my eye, she tilted her face away guiltily and then faced me only for a second to give a weak nod and smile. She turned back to Henry and a few moments later he was walking in my direction and standing beside me.
"Lexie, can't say I'm not surprised you're here." Henry smiled as he said but I could see the curiosity and discomfort in his green eyes.
I waited a moment to respond, running a hand through my short waves "We all were once friends, Ava and I used to practically live at each other's homes." I justified.
Henry smiled "I know you aren't here for Ava. It's okay, we don't have to lie to each other about these things..anymore."
"I'm not here for Eli." I sighed and pushed down the feeling of devastation that arose when his name was said. It had been years before I was allowed to think his name with anything but guilt.
"I'm here because my mother sent me. You know how she is." My mother who hated Eli from the day I sat down at dinner and said his name. Eli was the kind of boy that was charming, kind, exciting, the boy that you fall madly in love with. My parents didn't want me to have that kind of relationship. Not when I was a kid, a teenager, or an adult.
The forbiddenness of Eli Campbell was probably drew me in. He was the name I drew on the back of notebooks. He was the boy that I spent hours daydreaming of. The part my mother hated the most was the crush being requited.
I'd spend every day laughing with Eli, Henry, and Ava too. We went to a tiny preparatory academy, and we spent an hour on the bus everyday back and forth from kindergarten to senior year. Eli and I spent an extra twenty minutes together walking up the mountain to where our homes sat perched alone a couple hundred feet away from each other.
Eli and I truly became infatuated with each other in middle school, and our parents saw it. They didn't want children that fell in love and became distracted. My parents saw medical school in my future and Eli's parents saw the same competitive and elite future for their son.
It didn't stop us we walked slowly as we returned to our homes after school, and when we both turned sixteen and given new cars we always carpooled, it was better for the environment we argued to our parents. I loved Eli and he loved me. I saw it at church when we gathered hands to pray and he was always beside me. I saw it at school  when we were asked to find partners and he always winked before coming over. I saw it when lacrosse captain Jackson Rickman  asked me to homecoming and Eli grinned when I didn't accept.
We were never an item not even when we called each other for an hour every day of our freshman year of college, he would send me long emails just to check in, in case we had forgotten to say something in our conversations.
We had planned for him to transfer and go to medical school with me, but in our senior year of college, Eli stopped calling every day and sent only quick emails. It was made official that he wasn't transferring when I heard his mother talk about him deciding not to transfer but to stay to be closer to his girlfriend, Ava Morgan, at a brunch with my parents. I was heartbroken, devastated, and confused but that wasn't an excuse good enough for my mother and I went back to school, started dating, and here I am.
For awhile I was in a relationship with Henry, but he knew that I was never fully invested. We broke up right towards the end of my second year of medical school. Now here I am, still stuck under my mother's thumb, all alone at none other than Eli Campbell's wedding. The boy I never knew how forget about.
The wedding party began to head inside the chapel. For the second time that day I caught a flash of Eli. He caught my eye and his face morphed into a mixture of surprise and sadness. Muttering a quick excuse to his mother, he rushed over to me.
He didn't pause to stop and say hello instead he came and embraced me in a hug. "Lexie." He whispered into my brown waves.
  We pulled apart a few moments later and stepped away beside the church, and out of site. He raised a hand to cover his mouth before exclaiming "I didn't think you would come."
"It's your day Eli. I had to be here." I whispered.
Eli smiled and stared at me as we both took each other in. "It's really, really excellent to see you."
As I stared into his matured features I remembered the days spent playing cards, the nights I cried and he held my hand as a friend, the long phone calls late at night where we only breathed just to remind each other there was someone out there who cared and loved us.
And when he grinned I knew he was thinking the same thing. "I'm always going to come, you're my favorite person in the world." I shyly grinned as I reached to hug him again.
Eli once again wrapped his arms around me and breathed in. "I'm always going to be madly in love with you, Lexie."
"It's okay, Eli. In another life." I assured him.
Eli stared back at me and frowned regretfully as his face crumbled, and finally he smiled back at me. "Another life."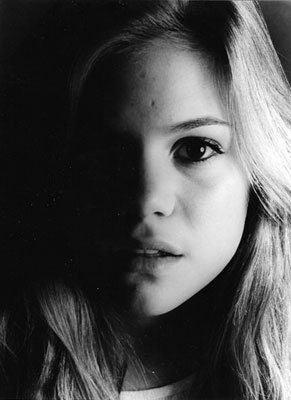 © Michelle M., Plainview, NY