You and Me
November 15, 2015
I'm right here, where I have always been. For as long as my memory can span, I've stood by your side. Truly, we were inseparable. There has never been a me without a you, nor a you without a me. Over the flying years, you engraved and embedded your way into my heart. You even carved yourself a special corner in my dreams. I cannot possibly part with you without taking a chunk of my own self.

Darling, you've left me helpless. Each hour can only be spent yearning and pacing for your warmth again. With you gone, I can't even breathe. The stiffness is compressing my lungs while my broken heart relents to the emptiness. The only cure can be your gentle touch, soft-spoken words, and the familiar lines of your silhouette. Yet, you are nowhere near me. Won't you run back into my embrace? There is no need to wander in search when the girl who loves you most awaits right here.

Your blindness is lethal to me. Any passing stranger can sense it. You and I have the potential to become something far beyond wonderful. Imagine all that we'd be once again: solid, passionate, and whole. With our fingers interlaced, we could face any obstacle hurled at us. For as long as we stand together, we would be invincible. The beautiful truth of us is inevitable, for it has been decided by fate itself. Can't you see we're meant to be?

I'm afraid I've fallen terribly and madly in love with you. So here I am, begging for your return. I fear I could never bear to live without you. Death would be easier than this throbbing heartache. Please come back to me, my love. Only you can wipe my tears, heal my wounds, and soothe my hurt. Together, we can rewrite this catastrophe into a miraculous tale of everlasting love...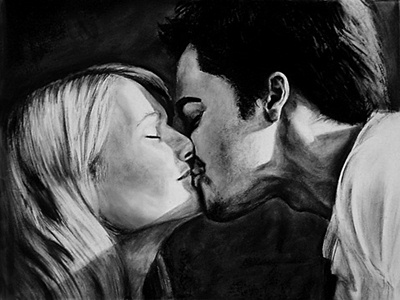 © Lauren R., Marshfield, MA