Soul Mate
October 22, 2015
       A soul mate, you say? Fate? Destiny? I believed these were merely concepts we conjured up for the burden of hope. I never had any faith in love. You see, love itself is a flame needing only a single spark to ignite. It will then burst into wild flames. They threaten to consume any remaining sensibility. Its temper, however, is short lived. Easy to ignite, easy to smother…. That is the harsh reality of love.

       But when our eyes met and hands grazed, every foundation of my beliefs was shaken up like an earthquake. Tremors and pulses began coursing through my blood. The shock beat me to the core.  I had underestimated the power of the insanity. There were no pieces to pick up as they had all been blown away by the madness. The shackles of fear that once held me down were shattered. I should know too well the realities of love. But because of him…. My world no longer dwelled on reality.
       It was the same boy I had known, but something felt vaguely different. Affection filled all the dents and nicks of his flaws while a shear layer of utter perfection suddenly enveloped him. Love distorted my senses and made me blind to his blemishes. Because in my eyes, he was truly perfect.

       I wasted countless years and hourless days despising love. Yet, it only took one moment for it all to crumble… The concept of love failed to frighten me as long as I could feel the radiance of his presense. Our flame may not last for eternity, but I couldn't care less. Even a single second spent together could provide enough bliss to help me cope with a decade of misery. Our love was a flame so fiery that there'd always be warmth long after it stopped flickering. It was a flame so passionate that the earth seemed to have a soft, glowing undertone. Fate brought to me soul mate and the flames were too hot to put out now….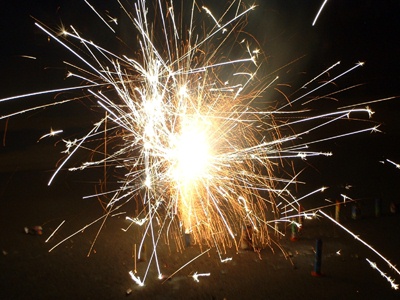 © Kevan B., Beaverton, OR