Broken Ice
August 13, 2014
On the counter was a cup of steaming hot tea, sitting calmly in Sam's mom's fine china cup. Sam had opened up his mug cabinet and reached for the highest shelf, for the fine white china cups that were wrapped with delicate renderings of cherry flowers.
He boiled the tea himself, poured the water over a jasmine tea bag. "Oh, I forgot to ask. Do you like jasmine?" He turned around to find me sitting on the kitchen counter, studying the pictures of him on the refrigerator. I had squinted my eyes at him.
"What's jasmine?" Sam bit his lip.
"It's... kind of a bittersweet flower, I think. Whatever." I tried to ignore his lips and brought my mind back to the tea. He's a human, Asra. A greedy human.
"Is the tea finished?" I asked. Sam was standing with his back to me, cupping the china in both of his hands like the water was something precious.
"It has to steep." I gave a long sigh.
"You know, I'm sure I'm not really sick-"
"I insist." He cut me off. I tried to hide my smile behind my hands, capture it by weaving my fingers together, making it invisible. But sunlight couldn't be hidden.
Sam turned around and hefted himself up onto the marble counter, and finally noticing my ridiculous smile. The corner of his lip quirked. "What's so funny? Is there a joke I missed?"
"Nothing. It's just that your glasses are all steamed up."
"I know. My stupid nerd glasses. I don't know why I keep them," he said bitterly, removing them and rubbing the lenses on the hem of his sweater. "They've been broken enough times."
"It adds character," I said. "When something has been broken. It makes it stronger when it's fixed." Sam froze, his fingers motionless. He slowly lifted his head up and gazed at me with dark, wide eyes so full of wonder they could probably quench the fire of Hell itself. I let myself look down at his parted lips before jumping off of the counter and onto the floor.
"Let's go," I barked.
"Wait, wait, wait. Your tea-"
"I'm sure it's done by now." My voice was ice.
"I'll bring it," Sam said in a quiet voice, his brow brought together with wrinkles that I had put there. His hands wrapped once more around the steeping tea and he came to my side.
"Thank you," I said with cracked ice words. Damn, what he did to me. "Let's just go sit by your porch. Is that all right?" We were back to square one. Politeness.
"Of course, Asra." So we went through his death-silent living room to the porch, the screen door snapping back against the frame as if it had a vengeance. There was only one place to sit, and it was a swinging bench.
Sam looked lost, his eyes fixed on the lawn. "You really believe that? That when something is broken, it becomes stronger?"
"Always," I replied quietly. I suddenly wanted to see inside of his mind, all of the gears that made him think and the sparks and connections that caused his eyes to shine with joy and with tears at the same time.
"Then I must be really strong." Sam's pale fingers reached up to push his glasses higher, and my gaze caught his, his gaze caught mine. Caught like rough skin on silk, caught like a fish swallowing a hook, the fisherman only just realizing that maybe he didn't want to kill it after all.
"Here's your tea," and his voice was full and cracked. I wanted to mend it. He held the cup out to me, and our fingers brushed, and suddenly we were sitting very close and then his head tilted down. Fireworks and we pressed closer. His lips were as soft as velvet, softer than I had imagined.
My hands came up to hold his head, and my forehead pressed against his glasses. Then the kiss was over, before I could even process its existence.
We stayed that close for an eternity, staring, foreheads kissing, lips not. The steam from the tea drifted up and sunk into my jaw, my lips, our lips.
"It's not bitter," I finally whispered.
"What isn't?" Our voices belonged to secret lovers in the night.
"The tea. It's only sweet."
I didn't bother to hide my sunshine after that. The clouds hid from my light, rays dancing across the sky, calling and calling Sam's name.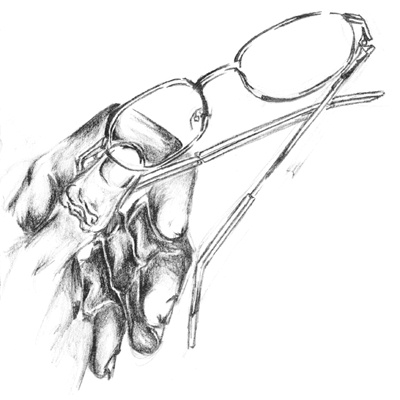 © Omar M., Philadelphia, PA