Heartbeat
July 16, 2014
We ran. Air was coming to me in gasps. I felt like my legs were going to give out. The frigid air seemed to rip around inside me. The nonexistent sweat felt like it was making my skin burn up. I could feel the weight of my legs was getting the better of me. He saw exhaustion was taking me and he took my hand and pulled me along. If he hadn't saved me then I would've been dead.

My feet trampled down the dead grass. The woods seemed endless. The bare trees seemed to be even barer when you were trying to hide in them. Everything seemed so quiet.

"We made it." I barely heard him gasp out. A tall wooden house came into my view. It was a terrible place to hide. It would've been better just to dig a hole in the ground. It was in plain sight across a long stretch of field. It was falling apart at the seams. It was the most obvious place for some kids to find refuge. I didn't like it. But I trusted him and that was good enough for me.

We ran across the open field and he slammed into the door. I was afraid it wasn't going to open for a second, but then it gave. We clambered in and he shut the door behind us. I fell to my knees, shaking and trying to breathe. He pulled me to my feet, "Come on, we're not safe yet."

He opened a trap door in the floor and started climbing down a ladder. I followed him, legs shaking and shut the trap door above me with shaking hands. He helped me down then pulled me into the far corner and we sat down.

The floor was dirt and so were the walls. The ladder was the only piece of furniture. The room was completely bare. The only light we got was through the cracks in the wooden floor above us. A splinter of light came down and hit my leg. I pulled my leg back into the darkness. My pants and shoes were ruined. They were caked with mud and grime from our long journey.

I huddled down next to him, still breathing hard. After a while everything became silent again and our breathing and heart beats settled down to normal. I couldn't help but shiver, it was so cold. I could almost see my breath. He felt me shaking and put his arms around me. Even though we were here in the dark, I couldn't help but not feel safe at all. I wrapped my arms around him and put my head on his chest which was something I'd never done before. I could tell that he was surprised at my sudden affection but he just pulled me closer.

I closed my eyes. For some reason I just knew this was it for us. I could feel the tears flowing into my eyes. I could hear his soft heartbeat, his beautiful heartbeat, through his shirt. His life source; I loved him so much. I knew he loved me too and that was enough for me.
We sat there for a long time and nothing seemed to happen. It was just silence. I started to feel some hope blooming inside of me. If only we could be safe, If only they wouldn't find us, or maybe they'd let us go once they knew we were kids. But I knew it was wrong to hope. I heard a dog barking outside. I could feel tears collecting in my eyes again. He pulled me closer.

I heard boots and shouting coming from the upstairs. He kissed me on the forehead. I couldn't even react I was so scared. This was it, it was goodbye. "I love you." I whispered. He stroked my hair, "I've always loved you. I'll always be here for you." Tears streamed down my cheeks. He whispered into my hair, "I'll never leave you." Nothing more was to be said. I felt our hearts become one. We would always be together. Light swept into the room. This would be over soon.

Several men in army uniforms hopped down the ladder and into the room. They quickly found us and pointed their guns at us. I could hear the dogs barking upstairs. Their faces were menacing and unshaven.

He moved his arms from around me and positioned himself so that most of him was in front of me. I grabbed the back of his shirt. "Stand up boy!" One of them snarled. I could see his hands shaking as he got to his feet. "Disgusting Jew; Running isn't going to help you now." They aimed their guns at him.

I was so filled with fear that I couldn't move. At the last second I leaped, I slammed into him and we hit the ground. I covered as much of him as I could. I had never done anything this reckless before, but this was different. I could hear the loud gun shots ricochet off the walls. Pain hit me, in my stomach, my chest, my leg, and the side of my head. Everything became a blur. I closed my eyes.

"Stupid girl." I heard one of them say. That was the last thing I heard. I was being moved. I felt warm droplets hit my face. Was it blood, or was it tears? I couldn't tell. Everything was warm. Then I heard something; a heartbeat. It slowed then came to a stop. Everything was silent.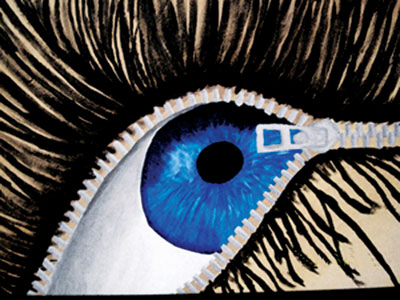 © Brad S., Lecompton, KS