Daisies
June 4, 2014
Life is easy, unless you're a seventeen-year-old boy, with low self-esteem, wanting to ask the cutest girl on the block on a date. Knees buckling, I put my little sister, Avery, onto the lush, green grass. Giggling with a bubbly spirit, Avery ran alongside some other five-year-olds who attended her birthday party. They ran next to the present table, jumped in the bouncy house, then decided to run around again. The youngsters dashed in and out between the mass of balloons. Then I saw her.

Mandee Applegate. Her long legs eventually reaching her skinny waist, and her amber hair glowing a beautiful color from the sunshine pouring down on her head.

She started walking towards me, smiling. Oh god, she's coming this way. What do I do? What do I say? I silently say to myself. She takes long strides, legs swiftly caressing the long grass. I'm so in love, so in love with her hair, so in love with her personality, and so in love with her… well, everything.

"Hi, Dylan," she says, directly to me, smiling. The air around me shifts around me into a whole new world. The birthday cake scent is gone, the screaming of little kids is also gone, and the grass, trees, and sunshine is all gone. All I see is Mandee.

"Hey. How are you?" I ask.

Mandee, brilliant and elaborate, answers my question. "Good. Luke is probably off somewhere with Avery.

"Cool," I say with some ease. Just do it. I tell myself. I lean in for a quick second and then everything changes. My lips press against Mandee's and everything slows down in the moment. I close my eyes and I feel Mandee's eyelashes against my cheeks. I taste a sweet scent of strawberries. It feels like I'm being lifted into the air, flying like Icarus, a Greek God. I open my eyes and look at Mandee. Her eyes are blue gems and sparkling. She stares into my avocado-green eyes. The sun, a ball of great fury, shines at a nice afternoon glow. She smiles at me and BOOM! I know for a fact that I love her. I've known that since the day I met her. She's "The One."

"I love you, Mandee Applegate," I told her.

"I love you, too, Dylan Rochester," She said and smiled.

"Will you go to BurgerShack with me tomorrow?" I ask, with a smile upon my face.

"Of course, Dylan Rochester." I have a grin among my face and then Mandee has a grin across her face too.

I guess life is only hard, if you make it hard. Funny how that worked out.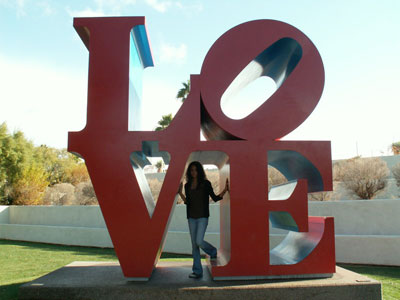 © Shannon E., Glendale, AZ