Never Lost, Always Found
May 29, 2014
The city of Paris shimmered. You knew the night began when the lights went on. I stood there waiting for my friend at the Cafe, her name; Sylvia Jones, not only was she a terrific friend but also the only friend to come close to even knowing me. As I waited for her to show up, I looked up at the night sky trying to put together the constellations just as my father had taught me. I configured the stars of Cassiopeia, a vain queen who boasted about her beauty. Why does everyone seem to worry about the materialistic things nowadays?


I had seemed to zone off, as my friend came running through yelling my name, "Johnnyyy!!!!!" she kept yelling my name nearly making me deaf.

"Sorry I'm late Johnny, you know how hard finding these darn cafes is."
Well there goes that girl, Sylvia always late to meet you up, you could never know if she was going to show up dead or not. I stared at her, God she was beautiful her golden shimmering locks that reminded me of the sun fell across her pale white face. You could always look into her eyes and tell what was on her mind, her eyes spoke to you. I took her by her hand and then we went into to Café de la Paix.

She sat down in a red dress that fit her perfectly, and she wore a charm bracelet that revealed the different cities that she previously traveled to. She ordered the Macaron Fleur d'Oranger and a cup of tea while I ordered a plain, black coffee with 2 tablespoons of sugar. As our the waiter finished with our order, he smiled sheeply, I think he was also taken by her beauty.

Sylvia Jones had been married 5 times, too many times to consider any of her relationships serious. We had only known each other for a few years but she already managed to get 3 ex- fiancees. Not only did her he life compose of 3 fiancees she had also been on the cover of Vogue, as she was a French model. I had met her years ago in this same cafe. I had asked her if she wanted a cup of coffee, and we got along so well that we were exceptionally good friends ever since."So what have you been up to Johnny?" Sylvia asked smoothly and graciously, her voice never missing a beat.

"Well ya know, I've been trying to find a job as a photographer, but I still have no luck."
If there was one thing I had bad luck with, it was with finding a simple job, I have been to every model agency, trying to find myself a decent job only to be turned down by every single place, they just weren't interested in some ametuer photographer. The reality was setting in especially since I barely had a single night where I could actually sleep and not wake up screaming and covered in cold sweat.

She looked at me not in pity but in amazement, and no one ever looked at me that way. If we were merely pieces of the sky, she was the sun that lit up the whole place and I was just a useless cloud drifting by.

She looked up at me all of a sudden, her face no longer had that rosy,warm complexion, her face turning gray and gloomy. I asked her what was wrong, because she worried the hell out of me.

Sylvia seemed to hesitate, and she stared at her hands as if deciding how to tell me.

"Johnny, I was late because I went to the doctor, and I have cancer. It's fatal Johnny, I only have 2 weeks."

Something strange started happening to me then. Her words kept replaying like a scratched disc in my head over and over and over even after she said her goodbyes , I'm going insane I thought.

I blamed her for everything. How could she do this? She's leaving me in this hell all alone.
I decided to go up to her apartment then to talk to her and so I walked a few blocks instead of taking a cab since I wasted most of my money in the cafe. When I got there I noticed strange things, the windows outside her front window were broken, and the lights were off which usually remained on because of her constant insomnia. I knocked on her door and just as I expected no one answered. I heard footsteps behind me, they slowly creeped closer and closer behind me. Whoever stood behind me kept breathing on my neck, there breath hot and sour. That's when I passed out, the last words I heard were from Sylvia calling my name in terror.

Then I woke up, my hands covered in warm, sticky blood, and Sylvia Jones the life that once radiated from her no longer stood a chance against me.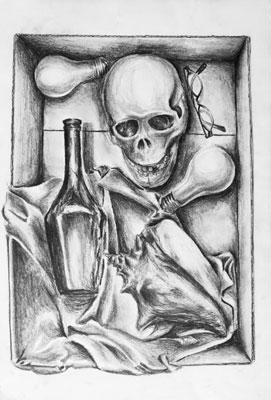 © Karen S., Norwalk, CT