Andromeda.
April 26, 2014
He sits in his room, laboring over his weathered acoustic. Strings all awry, his fingertips red as clay and leathery to the touch. The guitar vibrates with uncertain certainty; a warmth that is not quite full, not quite empty. Sounds slip through his aching fingers like silken water ribbons, reaching to fill the unopened void.

His eyes are the color of rusted Mars, voice like flames that lick aged logs. It tumbles in quieted murmurs, subtle and shy, forming a protective shell around his own fragility. It was his own self-doubt that lead to his downfall and to that deep, lonely place. It was all in the pathetic effort to keep the one thing he valued more than anything safe and happy, a much more selfish decision than he'd intended.

Though, it is true to say, he learns from mistake.
From example.
From regret.

Today is the day he decided to say goodbye.

He'd known that he had an old soul, its wisdom creaked and screamed, whistled and moaned. When you take away what makes them bond, what makes them whole, their stability—not even his ever-growing age could predict just how similar steel and glass are, how they are so easily bent and broken, how they can twist and writhe in unfamiliar hands.

And fall.
And shatter.
And then somehow, mend.

What he hadn't known was that love is grey. It is not pre-determined, there is no formula, no single rhythm to follow to capture. Love is flowing. Love is natural. He knew love as something to be worked for, to be obsessed over. Love was a captive, a victim; he was only the submissive master, who bent to her will. But each favor cost her: her freedom. Once a spout that was slowly dwindling down to drops by his very hand; He knew love as ownership, not compromise. He knew love as a chokehold, not letting go. His love was absent-minded pre-occupation, hers, was not.

In her reality, she had the entire universe painted upon the backs of her hands, large, pleading, thirsty eyes and open palms. All she wanted to know was everything she could; to explore the stars and soar among meteors. Her mind was more open than that of a gaping chasm that swallowed entire cites whole, with tender finger tips that thrived off adventure and endless change, and what a heart to match. She was happiness incarnate, despite her dark past, despite all of the scars and wounds, she was the very essence of the beauty in life.
And he knew this. He didn't mean to squash her. He didn't mean to break her. He didn't mean to throw the punch into her stomach with that one word. He thought he was good to her, because she was happy. He thought he was doing the right thing, because she was safe. He thought that their love was over, because she didn't really need him.

It's not like he didn't care at all. He did, because she lead him to happiness. She was the celestial girl; she took a sledgehammer to his shell and tore him out. She showed him how to get kisses from the sunshine, how to enjoy painfully cold hands, how to properly drink an overly sweetened strawberry lemonade. But mostly, she showed him how to touch the stars, and hold them between his shaking palms. "Tears do dry, wounds do heal, but you must let them."

Ever so slowly, his mind begins to clear. He thinks of the girl, thinks of himself. He looks down at his hands, releases that aged guitar. The wiry strings unravel from his wrists and he finally relinquishes his chains. Like vines, the dust falls in clouds as he rises. Now he is not shaking, he is not hurting. As he rushes toward the door, he smiles.

Today is the day he decides to say hello, again.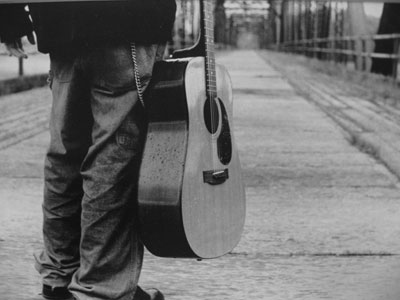 © Bailey M., Eagan, MN