From Distance
October 11, 2013
Girl

He stepped carefully around his car, shoveling the snow from beside it. He had already cleared the whole driveway, she had been watching him do it for over an hour now. She couldn't help but laugh as she watched him through the window of her own home; he didn't look right with his winter coat on, shoveling snow. He looked quite silly, really. The coat didn't belong on him. The situation didn't fit "him". She didn't understand how, but the picture just didn't look right. She barely knew him, but she felt a strange connection to him. She wondered if he felt the same.

In the spring, she watched him each and every morning leave the house either by foot or on his bike. He looked more comfortable in his own skin, versus in the winter when it just didn't look right in that strange way she didn't yet understand. In the fall, she'd run upstairs and look out her window each afternoon, sprawled across her bed. Next door was him, either raking leaves, walking his dog down the street, or walking to his car. She didn't know why she felt such an urge to see him. She just couldn't understand.

Around the same time each evening, he would walk down the driveway to his mailbox to collect mail, gently scanning through the letters as he subconsciously walked back to his front door and into his house. Sometimes, as she saw him walking out his own door to get the mail, she would throw on her shoes and run out the door to her own mailbox to get the mail that was probably not even there. She just needed to be close to him. He would look up at her, mere feet away, smile, and go back to scanning through his letters. She would shyly smile back, although he usually wasn't even looking. He couldn't be interested in her, he was an adult and she was just a teenager. She still wondered if he felt the same thing she felt. It was like nothing else.

Boy

She walked through her backyard taking pictures of everything. She kneeled in the grass and took a picture of the weeds. She squinted at the trees and took a picture of their bark. He didn't mean to watch her, but if he saw her when walking past a window he would stop to stare. She wasn't outside often, but when she was, he had to look for some reason. He didn't understand why. All he knew was she lived next door and he had never spoken to her or her parents before. He could tell she was in high school, but that was about it. He knew nothing about her except for the fact she only came outside to take pictures or go for a walk. He really didn't have an eye for that stuff, but perhaps she did. Maybe she found beauty in those weeds he would tear from his yard.

Sometimes, she would come get the mail at the same time as him. He knew she was quiet, not to mention younger, so he never tried to make conversation. He wanted to, but he couldn't. What could come of it anyway? What would be the point? They could never even be friends. She probably didn't want to be friends. He knew he felt something strange, she was different. How she was different escaped his mind. He would look up at her and smile, but he didn't want to give her the wrong impression. He would quickly go inside.

Girl

He brought a girl home regularly now. They would go inside that afternoon, and they would walk out the next morning. Hastily, he'd get in his car with her, and return home the usual time he did from work without her. She knew that this was probably his girlfriend, not that it mattered. She was just his neighbor. Who he loves is none of her business. She couldn't help the slight jealousy she felt.

Boy

She never came outside anymore. Even now he would look for her outside, but she was never there. He would bring his girlfriend to his house to stay the night, and even while she was there he would sometimes just peek outside hoping the neighbor was taking pictures of the flowers that were blooming, just to catch a glimpse of her. He wanted to see her once more, but he just didn't know how he could or why he even wanted to. Whenever he would get the mail, he'd listen for the sound of her front door opening, but wouldn't hear it. He never saw her outside again.

Girl


I watch him from upstairs. Sitting on my bed, I look blankly out the window. The moving truck is parked in his driveway, the last few boxes are being tossed in the back by some hired men. He steps out into the center of his yard as they close the back of the truck and quickly drive away. He steps up to his front door, locks it, and walks to his car. A few tears escape from my eyes as I watch him stand next to his car. He doesn't get in it, he just stands there. He looks up at me, but I don't look away.

Boy

She's so far away upstairs in the window, but I know it's her. She doesn't look away, she just stares at me as if it's all she can do. It's just like those few times when we got our mail, except we aren't just exchanging a glance. Now we're staring at each other. It's almost exactly like those times we looked at one another at the ends of our driveways, though. All I can do is smile.

Maybe, if we were different people...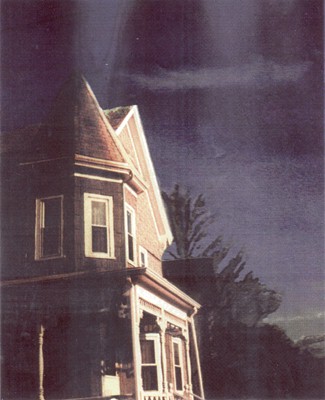 © Elyse G., Wilmington, MA