The Perfectly Imperfect
July 31, 2013
My Summer-break is coming to a close and I wish I could believe that things have finally fallen into place, right where they belong but at some point, I wish they would never fall into place. This is the funny thing about me, I crave for perfection but at the same time, I cannot afford to live without imperfections.

Growing up has played the biggest part in just these few months of you and I. It is fear, excitement, anticipation and desperation all at once because you have led me into your own world and showed me what I have never seen before. I feared everything brand new but it is all good, I was born a creature that could cope well in just a short period of time and overcoming fear has been so much easier when I can hold your hand.

I had never believed in charms until you open my eyes to all the magical things and now that I have seen magic, I am a believer and this is the my eighteen-year-old self writing it all down on my journal, in hopes of creating wonder in the future when all dreams are dead. In forty years' time - I will be old then - I might be sitting my retired ass knitting next to you at home, or I might end up alone, but when I look back to this day of my life, I will still feel the twinkling feelings in my stomach like I do every time when I see your smile and I will remember how my heart is tied in knots searching for you in the crowd when I have lost sight of you. When I become old and look back to this moment, be it a mistake, I will never regret taking your hand to ride on this magic carpet with you. Because when I lift up my head, it is an unbelievable sight and when I look into your eyes, my pulses race, my gaze tenses and they are such indescribable feelings.

Perfection is not your word because you are so and very flawed in every way. You wolf down your lunch when you are hungry and that makes a mess around your plate, sometimes there are even stains on your collar because I always know you are generous enough to share the food with your shirt. I know how cranky you can get after you have drunk only the third glass of shooter and sometimes I hate it but I never flip out on you because I love you. The scars on your arm bother me, though not always, they remind me of the person you once were and sometimes your past hurts me because I know it used to hurt you too. And honey, you should know how midnight calls annoy me but it's okay because it's you and I love hearing you over the phone, feeling like we are just a kiss away even if we are miles apart.

There is this theory about each and everybody's significant other where people believe that every person has been paired with the one. Well truth be told, I don't believe what they say about the one because I always believe that destiny does not create us, and instead, we shape our own destiny. So if you were to ask me whether I considered you to be what they call, the one, I'd frankly tell you that I'm really not sure about it. One thing I am sure about, though, is that, I will no longer fear, for I will hold your hand until the end - and you, darling, is who I want to be destined for because you are perfectly imperfect and there is nothing that can ever compare to that.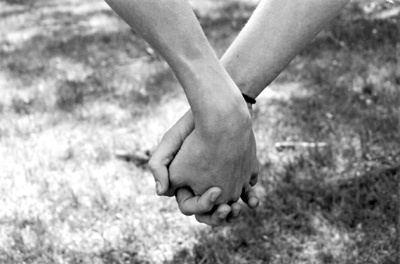 © Alexa T., Pompton Plains, NJ