Waddle Waddle Penguin. Part Two.
July 8, 2013
And so the days rolled by, filled with many fan girl attacks and hysterics. I have this perfect idea of being asked out by my sex god, want to hear it? Good because you don't have a choice…
So I imagine him standing by a huge willow tree in the park, he is leaning against looking like such a bad boy. He has a tight, white v neck shirt on, with the sleeves cuffed. He also has a pair of tight, black skinny jeans in casing perfectly around his bum. His hair is in a perfect quiff revealing his gorgeously pale face; he has his nose piercing in and his stretcher. He has a guitar leaning against the tree and as he sees me approaching in slim fitting black dress he picks up his guitar and begins to sing "I Wanna Be Your Boyfriend" By the Ramones. Once he finishes his song he asks me to be his girlfriend, I say yes and he kisses me. It starts to rain. His shirt clings to his fragile body.
Yeah, I might stop at that…
So along came the 4th of July what a sensational day it was. You can probably guess where this is going but I'm going to go into juicy details anyway!
I got my sex god.
He stood by the tree, waiting for me. He looked so damn cute; denim jacket and a tight white shirt and skinny jeans. He looked amazing. No. He looked like an angel. I felt so incredibly nervous as I walked towards him; scars, burns and band aids on my wrists, a skull on my shirt and a coffin on my finger.
"I like the grunge look you have going on at the moment" He said, his voice was so seductive. We sat down behind the tree and we just chatted for a bit, I was surprisingly comfortable with him. We were joking around
"You're so rude" I said
His face moved in close to mine, I could feel his warm breath on my face as he said
"Is there anything I can do to make it up to you?"
And then we kissed.
WE FREAKIN KISSED!
His lips were the perfect pressure; not to firm and not to soft. The amount of tongue was just right; not like slobbery dog boy. He tasted mildly of smoke. I'm not a fan of smoking and quite frankly I think it is disgusting but him tasting like smoke was pretty hot. I like bad boys.
"You've been smoking" I said, as our lips separated. I couldn't help but smile.
"What's that" He said, pointing to the band aids.
He noticed my wrist. Crap.
"Band aids" I said with a huge grin on my face. He rolled his eyes.
"A bit of the self-harming happening again?"
"You have no idea" I replied, looking away.
"I've done it before but please don't hurt yourself again" He said
Then he kissed me again.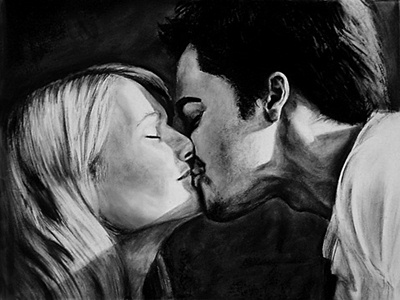 © Lauren R., Marshfield, MA