Summer Camp Crush
June 19, 2013
And in that moment, I knew exactly what I wanted. But I was afraid. As Dylan lay on the lush green grass beside me, I felt my palms sweat and my fingers start to tingle. I had never before felt this way with anyone and I was starting to hate how stupid it made me feel.

All my life, I had always felt the need to be in control of everything I did. For the first time, though, I was not in control. I was a victim. A victim of love. That sounds kind of harsh, doesn't it? Being a victim of something that millions of people are constantly in search for? But when you think about it, how often does the person you fall for end up reciprocating your love?

Dylan was my best friend. He couldn't know. He shouldn't know. Dylan and I had met only three months before, at a summer camp where we had been working as counselors. In that short period of time, though, we had developed the strongest friendship imaginable. My closest girlfriends from home couldn't even compare.

Dylan and I were co-counselors, and, working in such close quarters, we learned so much about each other throughout the summer. We knew all of each other's favorite foods, movies, restaurants, books. Everything. Every day at lunchtime, Dylan would whip out a bag of Swedish Fish candies and hand them to me, knowing they were my favorite. Likewise, I would fumble through my lunchbox, reaching for my Sour Cream and Onion Pringles, knowing they were his favorite. We would sit across from each other at the bench, surrounded by our campers, and I would watch as he would put two Pringles facing opposite directions in his mouth, "quacking" from his Pringle chip beak, making all our six-year-old campers laugh. It was the silly things like that. Like the way he would get down on one knee and pretend to propose to our camper, Lilly, just to make her giggle.

If I could dream up my ideal boyfriend, it would be Dylan. But I could never let him know I had feelings for him. What if he didn't feel the same way? It would ruin our friendship. And I loved being his friend.

I had watched as so many of my friends had gotten hurt in relationships. I had seen things not work out too many times. I didn't want to give up my control just to hear that Dylan was not interested in me. It wasn't worth it.

As I sat up, my back sticky from the grass, Dylan peered up at me.
"Where are you going?" he asked.
"I gotta get home for dinner," I replied.

The truth was, it was getting harder and harder for me to hang out with Dylan while I tried to hide my feelings for him. I didn't want to risk doing something stupid that would reveal my secret. But, just then, out of nowhere, Dylan grabbed my hand, pulling me back down. There, lying in the grass on a beautiful summer day, Dylan cupped my neck in his hand while he pressed his mouth against mine.
"I can't hide it anymore," he whispered in my ear.
"Don't," I whispered back.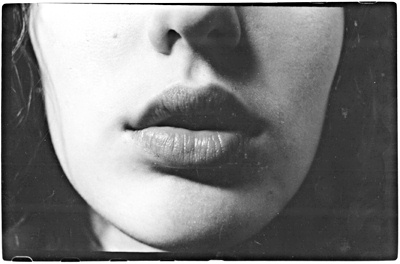 © Samantha A., Southbury, CT