Girl All The Bad Guys Want
May 22, 2013
A girl walks through the door and hands Mr. West a paper, he stands and gets everyone to be quiet. Then he turns to the girl and has some words with her then he turned to us. She has blonde hair, sapphire eyes, and has this pale complexion. She is a rocker with a nose ring, she watches wrestling, listens to rap metal, messing with tough guys, and turning tables in her eyes, and she is like a bad movie but she is the girl all the bad guys want.
I know this because I try to talk to someone cooler than me and I find her so I started to describe her like that. I know that it is mean, she could be a really nice girl but in my mind that is what she is.
"Class this is Bianca Isabella Oliver, she just moved here from New York" said Mr. West then turning to her, he told her were to sit and it was beside me.
Hi my name is Vance Sterling, I am six feet tall, blonde long hair but it is not that long and blue eyes, I have an athletic build and I am good looking. Bianca is pretty but there is something about her. She sits down next to me.
"Hey" she said smiling at me
"Hey" I tell her back
The bell rings and she is up and out of her seat, it is time for lunch and I see her, she is with all the bad boys. I turn and then I hear her calling my name and so I turn to see her running over to me.
"Hey want to hang out tonight at the dirt bike race" she asks
"Um that is really not my thing" I tell her
Then she starts begging me to go with her and so I said yes to her. That night before she came to pick me up I try to look like a tough guy, I was trying to impress her. She pulls up in this all black car and you can hear her music from her car, my mom looks at me and asks who is that girl but when Bianca gets out of the car I think my mom was going to have a heartattack. Bianca was dress in black leather, she had black leather shorts, with a leather vest that showed her belly ring, with combat boots, and on her arm was a tattoo of a skull with cross bones. Also her hair had a strip of pink in it.
"Hey Hot Rod are you ready to go" she said coming up to me
"Hey Bianca, yeah I am ready" I tell her and turning to my mom I say bye to her.
We get at the race and as soon as the guys see the new strange black car they all stare, when Bianca stepped out the guys went mad, whistling at her and coming up to her. I finally step out when Alex sees me he comes over.
"What are you doing here Sterling" he asks
"Um Bianca brought me" I tell him
"You know she ain't your type right" he said
I ain't her type I mean what, I like her and maybe I can become a bad boy, it can't be that hard. I would love to kick Alex's butt and show him that I can be bad.
Then Bianca sees that I am fighting with Alex and so she comes over,
"Hey Alex, are you fighting with my date" she asks
"Bianca you know I would never to that" he tells her
"I will see you on the field" she tells him and then she turns to me
"Alright Hot Rod let's get to our spots" she said
"Ok" I tell her and I follow her
When she finally dropped me off at my house it was 2:00 in the morning and I was tired and plus it was a school night. The next morning I was so tired and I almost miss the bus. I enter homeroom and I see her and when she sees me, she smiles. At that I walk over to her and then she kisses me right there in front of everyone and it was right on my lips. This had to be a dream but when she started to pull back I grabbed her cause I wanted more. Finally we stopped.
"So how about we skip school today" she asks with a smile on her lips
"Sure" I said still in a daze from the kiss
"Let's go" she purred in my ear and at that I followed her
We get to her car and drive around for a while and when we stopped I can't keep my hands off of her and so we are all tied up in each other arms and I thought that I never be with her. What will everyone think about me now, what about my mom?
"Hey Hot Rod, that was the best time I ever had" she whispers in my ear
"So are we together or was that just for fun" I ask her
"Well if you want to be together" she replies
I told her that I wanted to be with her and with that she kisses me. We went to school the next day and I everyone was staring at us, I was holding her hand everybody could not believe that I am dating her and now I am a different person then what I was before, I am trying to be a tough guy, hanging out with my girlfriend, listening to rap metal, and turning tables in my eyes. Bianca changed me and maybe for the good, like I said before is the girl all the bad guys want and now she is mine.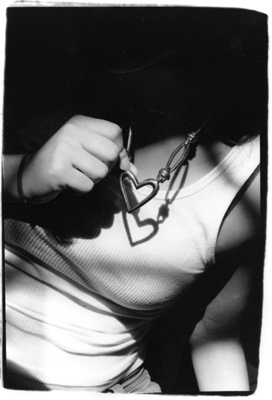 © Julia R., Bethesda, MD