Valentine's Day Party
March 22, 2013
Mario Humphrey is a womanizer. He is only 17 years old. He is the only child of his parents. They are rich and Mario uses this to manipulate his fellow students in his school. He uses his charm and physical appearance. All of the girls are crazy over him. However, Angela does not want to fall into his trap. He invites her to his Valentine's Day party. She refused at first, and her best friend Patricia told her they can go together. She agreed to this.

The girls arrived at the party looking extremely beautiful in their red dresses. Alex arrived a few minutes later with a large bouquet of red roses for his girlfriend, Patricia. They shared a romantic moment and Angela excused herself from the couple as she was feeling awkward.
Mario approached Angela with a red rose in his hand. He held onto her waist and she turned around in anger slapping him. This made him angry and he asked her to leave his party. "No problem. I never wanted to come here in the first place, anyway." As she was making her way out, he ran behind her and instructed her to apologise and she will not have to leave the party. She made a sarcastic grin and said "didn't you heard what I said? I never wanted to come here." Mario grabbed her hand and pushed her out of the party. Patricia saw this and she rushed over.
"What is going on here?" She said
"Your friend here taking her eyes and pass me." Mario said with anger.
"Okay what did she do?" She said again.

"She slapped me." He was getting angrier.
"He had no right touching me." Angela said.
"I was just being friendly idiot."
"Mario I am interested in you. I do not want to be your friend either."

"This conversation is over. Leave from here."

Patricia wanted to leave with her as well. Angela told her to remain and enjoy the party with her boyfriend. Patricia told her she does not want to remain in a place where her best friend was insulted. Patricia gets boyfriend and while leaving Mario pulled Angela and slapped her. Everyone was shocked. Alex grabbed him and asked him if that is the way his parents taught him to treat women. Mario told him not to bring his parents into their conversation. Patricia told her boyfriend to calm down and they all left; while Mario had a vicious grin on his face.

A black van pulled up and 10 men dressed in black exited. They dispersed a number of shots in the air and held everyone hostage in the house. This made Angela sick to the stomach and she threw up. One of the men grabbed Angela by her hair and took into another room. Mario was now regretting what he did to Angela. He decided he had to save her. He asked one of the men's permission to go to the washroom. He companied Mario. He got into the cupboard and took out a bottle of Lysol. He threw the substance on the gunman and knocked him over with the table. He grabbed his gun and was in search of Angela. He pushed the door open and found the man forcing himself on Angela. He hid the gun behind his back and pleaded with the man to let her go. He pretended to be dramatic and while the man was falling for it, he shot him four times. Angela ran into his arms and cried her eyes out. He picked up the other gun and told Angela to escape through the window and seeks help. He assisted her through the window. There was an 11th man, now 10th since one died, sitting in the van. Mario and Angela escaped through the back gate, and they ran all the way to the police station. The police returned with them and the man in the van was shot dead. They surrounded the home. Mario entered the house and distracted them. He told them that there are some more persons whom are hiding outside in a cabin. Two of the men came out to check and they were shot. Moments after, all of them had died. Everyone was freed. They all took a sign of relief.

Angela thanked Mario for saving her life and also apologized for her behavior.
"It is okay. I am sorry too." Mario said with a smile.
"I guess you are not that bad after all." Angela said.


"I am. I always felt my physical appearance and status in society made me invincible. But after tonight I have realized that I was wrong." He said.

"I am happy." She held his hand.

"Should I slap you now? Since you are the one touching me?" Both of them laughed.

"So can we be friends?" Angela said.
"Sure." They shook each other's hands.

"I like you Angela." Mario said.

"I like you too."

"So may I kiss you? I don't want you to brutalize me again?"

Both of them chuckled and Angela told him to go ahead. They kissed each other lovingly and Mario pulled out a rose from his pocket and stuck it in her head.

"Happy valentine's day" he said.

"Happy valentine's day to you too." They held each other for the remainder of the day. Despite the incident that took place; everyone had gotten back into the party mood; including Mario and Angela who were getting along just fine.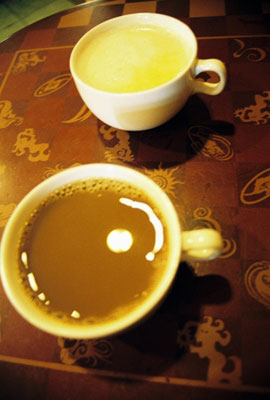 © Jaci S., Duluth, GA