Prince of the Sea
March 24, 2013
The sun drops down behind the horizon, a beautiful painting of colors left streaking across the sky and arching over the waves that are lapping gently on the sandy shores, where the tide is rushing in. I walk across the sand, feeling the day's warmth on my bare feet mingling with the chilled water swirling around my ankles. I'm longing for something, someone, but I don't know who.

The salty breeze plays with my blond curls and with the edges of my rose-and-cream sundress, and I'm holding a pale white lily. I lift it to my face to inhale the sweet scent one last time before heading inside, as the summer sun burns out. Then as I turn to leave my beach I see someone, far off in the distance. I don't know who he is, but something deep inside me is telling me to go.

I start out walking, until I realize he's walking away from me! I can't take it anymore; I have to know who he is. I need to understand why I feel like I need to meet him, to be with him, so badly. Soon the beach is flying underneath my feet. My heart is pounding out of my chest, and my breath is coming in short pants as I wonder why I feel so drawn to this man.

I'm about twenty yards away from him when he hears someone running up behind him, and he turns. That first smile he flashes my way makes my breath catch in my throat and I almost trip as my knees go weak. He's breathtaking. With sea green eyes, a gorgeous smile, and chocolate hair, slightly mussed from the salted sea breeze. My perfect Poseidon. I quickly right myself and avoid falling as I watch him open his arms waiting to catch me. Within moments I feel my feet leave the sand as I leap into his strong arms, and he spins me through the summer air.

I never expected to find such a perfect moment, and when he sets me back down on the earth I realize something, I still have my flower. He just smirks at me, his eyes crinkling around the edges and I catch a glimpse of that dazzling smile. Then he takes the flower from my hand, and ever so gently tucks it into the hair behind my ear. I feel his rough hand slide down my face and cup my cheek as he leans in to kiss me. All at once I feel my heart break and fix itself, finally feeling complete as this-this prince of the sea kisses me, and I know this is what I was longing for, what I'd been waiting for. And I fall in love with him all over again.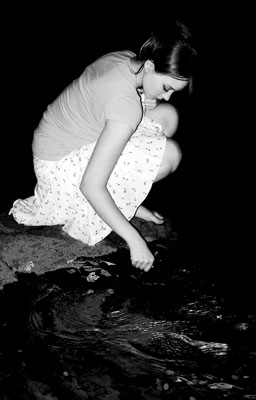 © Michelle B., Blairsville, GA