Dying Courage
March 12, 2013
Indigo Willow walks through the halls and is invisible; he has no friends but watches everyone wander the halls laughing amongst themselves with friends. He wishes he had someone to talk to in his times of despair and helplessness. He has been diagnosed with an extremely malignant case of Lymphoma. He has good grades, supporting family and a pet dog named Honey; who he relies on for everything, since that's all he has.

Indigo has never been one to stick out in a crowd, he doesn't like the attention even if it's for his own good. With his mother and father working many different, demanding jobs, unknowingly they're losing faith and their time. His parents refuse to accept the fact that he could be gone very soon. It's an unsettling feeling for him knowing that nobody will notice when he's gone.

Indigo has been in love with Ocean Bloom since their early years together in elementary school where they were very close friends, but she is completely unaware of his existence now that they have moved onto high school. Ocean Bloom was a beautiful girl with an ugly personality. She was rich and snobby, which made her undesirable and lonely. She lost all her friends because of the way she treated them, but Indigo still sees the girl he knew years before.

One day at school during their lunch break around 11:45 in the morning on a cold October day Indigo was at his locker gathering his brown paper bag full of his turkey sandwich, homemade cookies, an apple and chocolate milk, he peered over at Ocean with the two "jocks" of the school Clifton and Steve. Steve was the boss and Clifton was almost like a little dog that fetches everything he commands of. He didn't approve of the way Ocean was being treated, she just took the harassment and their insecurities like she was used to it. Indigo, so shy, quiet and close minded kept his angered thoughts to himself, although he was thinking "I'd beat them so badly if I could", knowing that he would never be capable of completing such a sketchy move.

Months have gone by, seeing Ocean being shoved around, thrown down the stairs a few times, sexually harassed by these two boys so nonchalantly that they were never caught. Ocean knew this was bad, but never stood up for her own self, or told a soul. Her parents and classmates questioned her lies from her pain and discomfort from her colored bruises and appearance.

Indigo knew Ocean like the back of his hand, he knew when she was hurting or concealing something she shouldn't, especially something he has witnessed. He didn't want to get anyone else involved either because he didn't want the bullies to come after him, or have Ocean mad at him. So after seeing her being emotionally and physically beaten down he didn't want to put up with it anymore, so knowing with his weak self he tried anyway; he went up to the boys at lunch in the middle of them pulling Ocean's long golden brown hair and calling her names and threatening her to kill her if she wouldn't do what they commanded her of doing, and he grabbed Steve's shoulder and pulled him in his direction and told him to stop what he was doing, all of it; not just today, forever and he got a huge fist to the face in return to his brave words. After he got punched Ocean was left at ease and was known for her hero all around the school.

After school that day she stopped by to confront him about his quiet bravery, she thanked him although she is now worried because she thinks that the boys are even more mad because they suspect she told him and other people about their horrible abuse toward her so they may hurt her more and much worse. They began to talk, and catch over the many lost years of missing friendship and when his mother came in she was surprised to see Ocean in her house so randomly. His mother was in there to give Indigo his IV medication for his cancer and no one else knowing besides family about his cancer so she started to cry after she put the pieces together and finally got Indigo to tell her such devastating news. After she had processed the facts and seriousness she ran out of the house with not a word to say in a panic.

The next day he returned to school just like any other day and realized she was absent from class so he left early and walked in the pouring rain, gusts of wind and finally arrived at her house drenched in the cold waiting for someone, anyone to answer the front door. She came to the door and luckily didn't look first before answering; she opened the door recognized Indigo and then suddenly shut the door and took off to her room. Indigo quickly caught the door before it slammed, and knew the route of their house from their friendship and play dates from the past so he ran to her room immediately and begged her for her time. Hours after catching up, reminiscing, apologizing and forgiving one another they began a great relationship only they knew where it was heading.

They began to hang out, walk home together, text, and have late night phone calls about their favorite television shows, answers to homework questions and completely forgetting about his withering body due to the attacking cancer that unknowingly was spreading.

The bullies noticed that Ocean had been hanging out around Indigo at school, making googly eyes in the classes they had together, and didn't like it, so they kept harassing her; Indigo stood up for her until one day Steve and Clifton had seen enough and were coming towards Indigo violently. Ocean cried; "Don't hurt him! He has cancer!!!" They all became very silent and Indigo walked away. They could see the guilt on Steve and Clifton's faces.

Ocean quickly followed Indigo and apologized. She told him "I didn't know what to do so I panicked and yelled so they wouldn't hurt you". Indigo calmly stated, "It's okay, I understand. Thank you for caring about my well being". Ocean gave Indigo a kiss on the cheek after they hugged.

As their relationship grew closer, the cancer wasn't getting any better. Indigo went to the doctor and they ran the same panel of testing as usual and caught up with his doctor about their planning and decisions about his sudden possibilities which one of them is staying in the hospital for more invasive, intense treatment and therapies.

Indigo is given short time to live and breaks the news to his girlfriend Ocean and they sobbed for days till she recommended they spend the rest of his time happy, enjoying their time together while they can and to make as many memories as possible. Days got shorter and nights became longer, filled with pain, series of panic, sometimes frustration when he let his emotions get the best of him. Indigo didn't know what to do with his family and girlfriend because after he died he would just be gone and they wouldn't have him anymore which unsettled him.

His days grew closer and closer, bed ridden and lonely. Ocean spent afternoons; after school of course, all hours of the night, and weekends together. Expressing their intimacy for one another and falling head over heels for each other came to a tragic end when Ocean held his hand while he took his last breaths and thanking God for his wonderful life and how blessed they were to be together.

That night was a restless night for everyone, especially Ocean; she couldn't sleep because she felt sick and she thought it was just her emotions from losing the love of her life. When she became ill the next morning her aunt came over with flowers to show her love, and grief for her niece's loss and they chatted, and her aunt recommended she went to the doctor. Ocean took her aunt's advice and the doctor insisted she took a pregnancy test, a couple hours later the nurse called her back and it was positive. Knowing she was going to have her deceased lovers baby without him physically present broke her heart but knew she would be a good mother and Indigo would have been a loving father.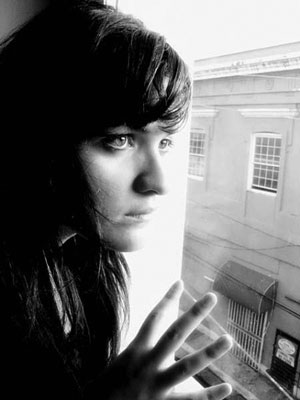 © Eveliz V., Bayamon, Puerto Rico