For Annah
January 19, 2013
"Why am I being such a chicken?" I hear him mumble.
I lift my head off of his chest and look at him. "What do you mean?" the statement is slightly confusing.
"Why am I being a chicken?" he repeats, staring into my eyes.
"You aren't a chicken silly," I say finally, smiling and resting my head back on his chest.
"Yes I am," he mumbles.
I sigh and lift my head again. "How exactly are you being a chicken?"
"I'm being a chicken about kissing you! I mean, why don't I just do it already?" he says mostly to himself than to me.
I feel my face grow red, so I lay my head back down so he can't see me.
So we stay like that for a while, on my living room floor with my head resting on his chest.
"Annah?" he says my name, and once again I lift my head to look into his eyes. He lifts one hand to my face, places the other around my waist, pulling me closer to him.
"I decided not to be a chicken anymore," he whispers, and then he kisses me.
Our first kiss.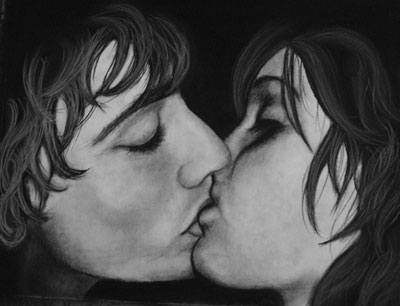 © Anna Y., St. Robert, MO