Rose Petals
January 25, 2013
My right hand was extremely warm in his. Our fingers intertwined so perfectly that we always believed that we were made for each other. Sometimes I even felt as if we shared the same heart and breath, but that was me. His name was Chance. He had been my best friend for the longest and the greatest friend that anyone could have. We shared secrets, we told stories, and we even talked about our lives together. When we realized we were meant to be more than friends, well we ran with it. If only you could see us now. Our walks home are the highlights of our day more often than not.

"Babe…Babe?" He nudged me, bringing me out of my daydream of our genesis. "What's on your mind? You've been this way all day." He looked at me with concern written all over his face. Without his usual giant smile, he looked like a sad puppy. It made me miss his smile.

"What? Oh, I was just thinking about how we started dating and how lucky I am to have a perfect guy like you." I said blushing.

"I love you baby. And I am the luckiest guy to be with such an amazing girl as you." He stopped walking and put his other hand on my cheek. He looked me in the eyes as his giant smile arose from the corners of his mouth. That was the face of my forever. Just then, he slowly pulled our faces together and I closed my eyes. I could feel his rose petal lips on mine as I began to melt. I felt all the blood in my cheeks become warm and visible. The kiss was so sweet and soft, yet at the same time so passionate. I couldn't believe that this was the same boy who a year ago didn't want to kiss in front of anyone because he was shy. Yet I could feel his kiss of perfection upon my lips. It felt all too real to be a fantasy. He made me feel small yet so large at the same time.

When we separated lips we both knew that neither of us wanted it to end. Why would we want to leave paradise; where everything is so perfect and peaceful? If it were up to us we'd stay there for eternity. But if that were the case we would never make it home on time, or at all for that matter. We started to walk again but this time we swung our arms happily and smiled big glowing smiles. We were officially the happiest couple alive.

"How was your day beautiful?" He asked in a joyful tone.

"It was boring, nothing interesting happened. All I did was think of you." I said laughing.

"Same here. But I'm glad I get to walk you home. It gets lonely on the bus without you there."

"I would imagine. I had no idea the most popular guy in the twelfth grade had no one to talk to on the most crowed bus in school." I said sarcastically.

"Well the only person I want to talk to is my wonderful girlfriend. Now is that a crime?"

"Of course not baby. I love you." I said chuckling. I kissed him on the check.

"I love you to."

We walked most of the rest of the time in silence. Occasionally looking up at one another and smiling. He was so perfect and kind. I still don't know why he thinks he doesn't deserve someone as good as me. I don't deserve someone as good as him. But we love each other and that's all we need.

When we arrived at my front steps I knew our time of the day was up, for now at least.

"Well I have to go inside now. Thank you for walking me home babe." I said, longing for him to stay.

"I'll call you when I get home okay?" He said and before I had time to agree he took my face in both his hands and kissed me. His lips, more firm this time, lead mine. When I felt his perfect tongue lightly touch mine everything else in the world dissolved around us. In that moment it was only him and me. The kiss lasted several seconds but we knew it had to come to an end eventually. We parted lips. Then he came in for one last peck. I knew that that one was just for tease.

"I'll call you soon!" He yelled as he jogged away with a big grin across his face.

"Okay!" I yelled after him.

I opened my front door and walked inside. I climbed the stairs and plopped down on my bed face up, looking at my ceiling. Our walks home were definitely the best part of my day. I thought to myself as I drifted to sleep, knowing that when he called I'd wake up to hear his sweet voice once again.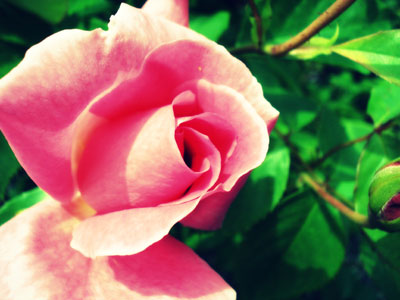 © Grace F., West Chester, PA