Our Spot
January 4, 2013
Our Spot



As the wet sand squished between my toes I thought about the last time I was here with the love of my life. This very beach, our spot. The sunset was at full peak. The air smelled of seaweed and just a little bit of him. Although that was probably because I was leaning my head on his shoulder. My fingers intwined in his, his lips brushing my forehead. Back then we thought our love was invincible. We thought that this was going to forever be our spot. How wrong we were.


Back then, when I was 17, my biggest problem was figuring out which earrings matched which shoes. I was so naive. I thought that love would always conquer all. I thought that he was my true love. I thought that you could have your happy ending if you just wanted it hard enough. And I did want it, I still do.


I remember my 18th birthday, the last time I was here with him. The last time I saw him. I come out here and reminisce about it sometimes. I still remember that spot, that exact same spot. The same spot where my life changed forever. When I became an adult. Not just in age.


It was right there, right under that palm tree. That's where he got down on one knee and asked me that very life changing question. David asked me to marry him and I turned him down. I knew I was too young. I knew that I was not ready for marriage. David saw it as a breakup. He saw it as me breaking his heart. In reality, he broke mine as well.


I come out to the spot once a year. I sit on my beach chair, have something to drink, and think about what my life would have been like if I had said "yes". I thought that David was my one true love. I wanted so badly to say yes. I just knew it was not the right time, but it was the right guy.


Yet, I've regretted my choice since the second I said "no". It was too late to take it back. I have never been able to forget the pain in his eyes. It haunts me every night before I go to bed. And he is the first thing I think about every morning when I wake up.


I haven't seen David in 10 years, but I still remember his face perfectly. His dark brown hair that always swept over his left eye. Those eyes which were the most amazing stormy blue eyes I have ever seen. Then again he was the most amazing guy I have ever met. So of course I loved everything about him. From his dimples to his strong set, sharp jaw line, to his kisses.


I was just staring blankly out across the Pacific, not even noticing that the sunset had died down. I was too busy reliving the past to notice the present. I was busy thinking about the first time David told me he loved me.


It was the summer before freshman year. We had decided to meet on the beach, next to that one, lone palm tree. He was early, I was late. As soon as I got there he bundled me up in his arms, and gave me a kiss that revealed everything he felt about me. So I knew that he loved me before he even said it. In fact, I didn't even give him a chance to say it. I leaned in close, and whispered "I love you too". David looked at me with such gentle passion in his eyes, and swept me in for another kiss. That was the perfect moment. Ever since, that spot, under that lone palm tree, was our spot. I still think of it as our spot, even though I know it stopped being our spot a long time ago. Ever since I lost the love of my life.


The best moments in my life happened under this tree. Also the very worst moment. This is where my life began, and this is where it ended. I come here every year on my birthday, to morn the loss of him. Every year on this day, August 3rd, when I blow out my candles, I wish for him. I wish that I could turn back time and say "yes" to David.


This day I'm suppose to celebrate me. Instead I celebrate David. After all, no one wants to get older after they turn 21, so who wants to celebrate that number that gradually gets bigger and bigger. So I celebrate our time together. I celebrate our spot. And for this day, I try to forget the heartbreak. I just never can. I can never forget the total, and complete pain in his eyes. I can never forget the tears, silently streaking down his face as he turned away, for the very last time. I can never forget the sound of my name on his lips as he said goodbye.

"Melody? Mel is that you?"


David use to say my name exactly like that. His voice usually wasn't filled with surprise, but the way the syllables ran across his tongue sounded just like that. Then again, I haven't heard David say my name in years, so how could I tell. Maybe I'm just hallucinating, or over exaggerating. This guy was probably just some random person I've met throughout my many years working as a travel agent. Yet, he did call me Mel. The chances that it's him is one in a million.


I don't know what to expect as I slowly turn around. Part of me wishes it was David, part of me dreads the fact that it might be him, but the larger more sensible part of me knows it just can't be him. Dark brown hair the covers one eye, grey/blue eyes, and dimples smiling own at me. No. It just couldn't be.


As we stared at each other a look of recognition passed between us. A thousand unasked questions filled the air. A thousand memories covered our skin in the cool night air. Even though it was not possible, it was happening. I knew with a certainty I hadn't felt in many years, that it was him.

"David?" I gasped.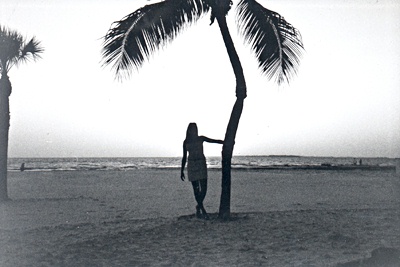 © Kim B., Marblehead, MA