That Morning in the Cold
December 20, 2012
It was early, and I was tired, and you were tired, and it was cold, and it was dark, but it would be fun, and I wanted to go, and you wanted to go, so we went. And so did everyone else.

You looked ridiculous, standing there in front of the mirror in my dorm, with your boots covering the cuffs of the sweatpants you were wearing over your jeans. I don't know how many shirts you had on, but over all of them was your massive jacket, the big black one with the fur lining the collar and the ends of the sleeves, and your neck was completely covered by the giant blue and white scarf. I watched you as you looked yourself over, putting your gloves on over your tiny hands and your hat on over your long hair. You looked like you had never spent a day out of the sun and it made me smile.

The only thing that wasn't covered was your face, but I knew that that'd be buried in my side the whole time we were outside anyway. You looked back at me in the mirror, and you smiled, and my heart melted like the snow did once spring eventually came. You saw me return the smile, and then came the laugh that could turn any bad mood good, no matter what was getting me down. The moment your nose scrunched up, all became right in my world.

I came up from behind and wrapped my arms around you, barely able to get all the way around through all the shirts and jackets and scarves, and that made you laugh again. You took my hands and pulled me closer and made my grip tighter and I rested my head on your shoulder and you leaned back and closed your eyes and I never wanted to leave and I never wanted that moment to leave either.

But we did leave. You, still holding my bare hand with your gloved one, led me through the door and down the hallway and out the front, onto the cold landing in front of the building. The snow hadn't started to fall yet, but, if I remember right, it would soon; maybe not that day or the day after, but soon. A bunch of others were following us—some of them were alone, some were with their boys and their girls, and some were in groups, and we all went on to the courtyard, not really talking but laughing instead and braving the sharp wind that was cutting our skin and bringing tears to our eyes. Some of us had never experienced cold like this, and it was in those first two years that the cold was something new and wonderful and something that needed to be experienced over and over; the feeling would not last. But it was still there that night.

So you led me down the path to the courtyard, where the choir boys were on the front steps of the lecture hall getting ready to perform. Everyone was gathered around them, huddled together to stay warm. No one needed to tell you twice; my arm was wrapped around you tight, and both of yours were around me.

I don't know for sure if that was the first night I was sure, but I know that I've been sure every day since then.

You looked up at me, like you thought I had said something. I hadn't, but our eyes locked. The bright green eyes, cold and tired and loving everything around you. Another gust of ice-cold wind blew by and you buried your face back into the crook of my arm. We didn't need to talk. We just stood there, in the freezing cold, listening to the songs and bracing the wind and not caring at all about anything but that moment.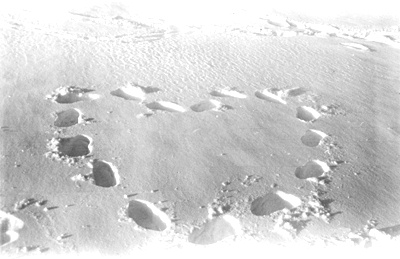 © Kim B., Marblehead, MA