Reverse Romeo And Juliet
November 24, 2012
They were in love, both ecstatic with the possibility of loving one another for all of eternity. And yet, there was deceit, jealousy rage and betrayal in there love. No love was perfect, but she was.

She was a goddess, absolutely glowing with radiance, shining her compassion with all of her pure heart. And he, was the devil in disguised, the hated person to everyone he had ever come in contact with. He was spit on, he was looked down upon, and he was not deserving of this glorious woman.

But she still loved him, while he betrayed her, she would never give up on their love.

He had torn a rift in their relationship, and though she tried to repair it, the tear was to deep. He embraced her for the final time before his hanging, and they passionately kissed. They had the meeting in clandestine, so that no one would know about it. When they finally broke loose of each other's grasp, they stared into one another's longing eyes, not daring to budge from the moment. However, there had to be one who went away. The man turned to leave, but he was stopped by the woman, a fierce fire in her eyes.

She took her hand and grabbed the dagger from her pocket. This was going to be their final good-bye. In a flourishing movement, she cupped the dagger with both hands, holding firmly, brought it up to over the man's head, and in a flurry of life and death, plunged it into her own chest, twisting it as if it were a corkscrew on a bottle of fine wine.

She gasped.

Landing on her knees, she coughed up the scarlet substance of blood, leaving an iron smell in the air around them. The man looked at her with solemn eyes, knowing that she did this so that he could run from this place.

But he could never run from her. He was the dark and she was the light. No one can stand without the other.

He picked up the knife that had carried her away from him, and his anger ignited inside of him. His eyes went wild with rage, and in the heat of the moment, he plunged the dagger into his heart as well instantly killing himself.

They both lay there, dead, and their hands intertwined, as both of them started towards the shining light, where they would be together.

Always.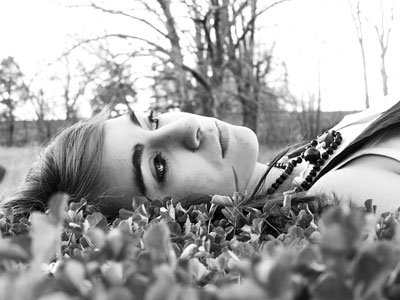 © Jasmine R., Bourbon, MI