The Luckiest Girl
November 16, 2012
"Hey Steven!" I say as I walk towards the car. I have a smile pasted on my face, but it looks completely natural. I walk up to Steven and remember. I remember back to when he would hold my hand on the way to school. Then I remember my daddy going to meet with him, per his request. I remember daddy sitting me down, telling me the 3 ½ years between Steven and I didn't matter, but 14 was too young for me to be in a 'relationship'. Me being sad and a little angry, but deep down I understood. Me listening to the radio, every song reminded me of him. Daddy saying we could still be friends, and me knowing it wasn't possible for us to be 'just friends' ever again.

But this wasn't what I let him see. I let him see a happy, laughing girl who loved life. Not a girl who felt a sharp pang in her heart every time she looked at him. Who faked being happy so well no one knew any different, so well she fooled everyone but God and herself. Not a girl who would lie in bed at night, guilt knowing at her mind. She had been the subject of many disagreements at Steven's house, a fact she didn't know until later, and now she felt horrible about it. and there was nothing she could do.

************************************************************************

"How was your weekend?" she asked. Steven had spent the previous weekend at his step-mom's house, where he had access to a computer 24/7, unlike at his dad's. They had emailed back and forth a bit, but not much.

"Pretty good," he replied. She leaned in to give him a hug. At least her parents allowed her to do that. they shared a quick embrace, and her eyes were drawn to his as she pulled away. She cautioned herself not to get lost in those green eyes, then furrowed her brow. She reached up and gently touched Steven's eye. She looked down at her fingertips, then looked up.

"Steven," she asked quietly. "Why are you wearing makeup?"

Steven looked at the ground. "No reason," he said softly.

She let out a hollow laugh. "Yeah, like I'm supposed to believe that." Steven turned to walk away, but she grabbed his arm. "Steven Hanson, tell me why you're wearing makeup."

He hesitated before replying. "I got a black eye."

"How?"

He hesitated again, longer this time, then said softly, "My step-mom's roommate hit me.>"

Her jaw dropped. "why did he hit you?" she exclaimed.

He looked at the ground. "She wanted me to get off my email, but I snuck on again."

It was like she had gotten the wind knocked out of her. She stood there a moment trying to remember how to breathe. "You got a black eye because you wouldn't stop talking to me?"

He looked at the ground again. She grabbed his wrists and he looked up at her. "Steven Hanson don't you ever do that again," she started. "I'm not worth it. Swear to me you will never email me again when you're at your step-mom's."

"No."

"Swear it or so help me I'll…..I'll….." Her brain worked fast, trying to come up with something good, but she got nothing.

He shook his head.

She felt her mask falling, her walls tumbling down, but she fought to keep them up. "fine," she said. "If I don't email you, you won't need to be on your email."

"You wouldn't."

"If it meant you wouldn't get hit I would."

"Friends email each other, don't they?"

That slammed into her like a brick wall. Friends? Oh she wished it were that simple. "We can't be just friends Steven," she whispered. "I don't even think that's possible anymore."

"Why not?"

"Why not?!?" Her walls came crashing down. "Because every time I look at you my heart skips a beat. Because I like you, and there's nothing I can do about it. Because when you said I love you at the dance it scared me, because I don't know if this is real or if this is God getting me ready for someone else. Because I'm scared that I'm putting all this feeling into something that isn't going to last." She could feel the hot tears sliding down her cheeks, but she couldn't stop now. "Because every time I look into your eyes while we dance I have to look away. Because looking into your eyes is dangerous, because it makes me want to kiss you. And I can't do that. I'm too young to do that. Scared because the last time someone said I love you, all those words brought was misery, for me and my friends.

She dropped to her knees, tears still streaming down her face. She looked up at him. "Don't act like we can just be friends anymore. You and I both know that would take a miracle."

He knelt next to her and took her hand. "Let's let's ask for one."

She thanked heaven above for letting her be the luckiest girl in the world.

And then she prayed.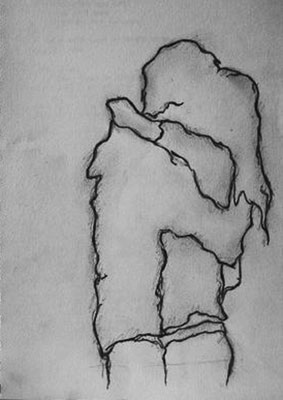 © Nicole B., Newcastle, WA