He's not Him
November 4, 2012
I always said I would never take an interest in someone like him. I said I would never have a connection with someone who treats others badly, and certainly never fall in love with the one some call a monster. I can see the picture so clearly in my head- him sitting next to me outside on the fence; we would be down by the water, because it would have to be a secret. He would know who I was and maybe I would finally learn the boy inside of him. I start to curl my hair around my figure, the move I always do when I'm nervous. But he knows me, and takes hold of my shoulder to still my hand, and then he would pull me close and kiss me…

I wake up with sweat on my neck, like I've just awoken from a nightmare. I cant match a face to the voice in my dream, but I know its his.

(Friday) The Dance-
Me: "This is going to be so much fun!"
Friend: "I know I just hope it's not awkward."
Me: "No we wont let it, it will be fun!"

I couldn't wait that night it was our first school dance. I had been to others that my friends had invited me too but never one with the guys I has crushes on. That's one of the parts to this story I can't figure out. Leaving my house I had my crushes in mind, three boys, all of basically the same qualities: shy, cute, funny, and they could all make me laugh. I never thought I would fall for him. The football player, the guy with a posy, and certainly not the guy who's last girl friend barley wore any clothing.

The Dance-
Friend: "So who you gona dance with." My friend said grinning.
Me: "As many boys as I can."
Friend: "I bet I can dance with more."
Me: "Your on! I'm gona dance with every boy hear."

It was a sill game we were playing I didn't think this bet would turn my love life upside down. But as the night progressed that very thing happened. I had danced with almost every boy and was way ahead of my friend. But I sadly had one more guy left. Him. Before this night whenever anyone said his name I always gaged. But a bet was a bet and I wasn't going to give in yet. It was one dance how bad could it be…

The Dance-
I tap her on her bare shoulder, she turns and before she can ask I whisper in her ear.
"Cutting in." I whisper. She steps away to find someone new to dance with, and take her place.
"Hey." He says with that grin of his face. I don't realize it but my heart starts to beat a little faster. I place my hands on the back of this neck, its warm. Gingerly he finds my waist and with a little courage lays his hand in the dips of my sides.

"What do you mean you like him! He's the devil! A bully!" I'm tuning my best friend out while I sort the thoughts in my head. I had danced with 17 guys that night why has he standing out?
"He's not him" I whisper.
"What are you talking about, what is wrong with you!"
But I ignore her, if my best friend can't convince me to not like him, then maybe there's a reason I should. Maybe he's not the heartless bully everyone says he is, maybe his not so full of himself, maybe he's not him. Could he be a prince charming? Or is he only a frog?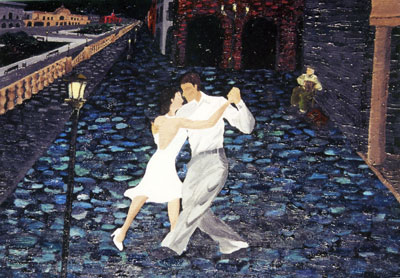 © Elizabeth M., Kannapolis, NC