One Moment
October 27, 2012
One moment can change everything. It can change your life forever. I never understood this. I thought that there would always be enough time to do what I wanted to do. Nothing much can happen in a moment.

I was wrong.

I guess it started a month ago, when I moved to England. It was a dull, rainy day and I was just another stranger in the crowd. One more person just running around doing their own business. I struggled to make my way through the throngs of teenagers, the old ladies walking their dogs and the businessmen constantly yelling down the phone. Then, there was him. He seemed to know me the moment he set eyes on me. He seemed different somehow, more casual, less frantic. He didn't seem to fit into this madness.

I stumbled down the street, squinting at the address scribbled on the scrap piece of paper. I looked up to try and call a taxi and walked straight into him.

He laughed as he saw how shocked I was. I started to mumble an apology and pick my bags up off the floor.

"Hey, it's okay. No harm done. You look pretty lost, you need any help?" I then looked at his face for the first time. That was the first life changing moment. He was beautiful. It was the way his eyes were looking at me, as if I was the most amazing and special girl in the world, as if he genuinely cared.

"Um.. yeah, do you know where this is? I've just moved here and apparently it's somewhere around here..." I bit my lip and passed over the address.

"That's a few blocks east from here. I'm going near it; we can share a cab, if that's okay with you?" He smiled a crooked smile. How could I refuse?

We sat in almost silence, but it wasn't awkward. I kept glancing sideways at him and seeing his had resting on the seat next to me, it took all my strength to resist the urge to reach out and grab it. I don't know what had come over me. As I was getting out of the taxi, he grabbed me by the arm and I span round to look at him.

"Would you like to go for a drink with me later?" He was half smiling and half blushing. I could tell he was really nervous.

"Sure, I'm Grace, by the way." I smiled at him. I'd only been in England a few hours and I'd already got a date. It couldn't hurt. I might as well make some friends in this town, especially if they are as cute as he is.

"I'm Greg. I'll pick you up about seven?" I nodded and watched the cab drive away. I then walked up the stairs into my brand new apartment.

I began to fall in love with Greg. He was sweet and sexy and he loved me back. That month was the happiest I'd ever been and was full of those life changing moments; our first date when he stroked my hand; the first time we kissed; the first time he stayed over at my apartment; I seemed to fall in love again and again. I spent every waking minute with him, but it was only for a month. One month wasn't long enough. It would have never been long enough.

Greg held out his arm around me as we walked out of the cinema. I leaned into him and inhaled his earthy smell. It reminded me of fur tress and forests. He kissed me lightly on the forehead and led me to the car.

I giggled as he whispered something in my ear. I wrapped my arm around him and listened to his heart beating in his chest. Just as we got to the car, I heard a shout.

"Give me your purse." I felt the barrel of the gun press into my back. I was shaking too hard to do anything. I was terrified. "Now! Give it to me!" The man was starting to get angry. I handed over my bag. I was now facing him. He was still pointing the gun at me.

"And you. Give me your money." He turned to point it at Greg who was still stood by my side, but slightly in front of me. He was being so protective and all I could think about was getting him somewhere safe; somewhere away from this horrible man and to just hold him close and never let go.

"Okay. Here." I saw him hand over his wallet. I was praying for him to leave us alone. I prayed for him to lower the gun and just walk away. I didn't care about the money, I just needed Greg.

The man with the gun started to back away. I almost sighed in relief when he changed him mind.
The next moment seemed to go in slow motion. I saw the man grip his gun tighter and he moved it to point straight at my chest. Greg saw too and jumped in front of me as he pulled the trigger. I heard myself scream. The moment had passed. The guy ran. In that one moment, I'd gone from a girl in love, to a girl heartbroken.

I cried as Greg lay bleeding in my arms. I saw him mouth the words "I love you" as the last glimpse of life left his eyes.

One moment can change everything. It can change your life forever. I never understood this. I thought there would always be enough time to do what I wanted to do. A lot can happen in one moment.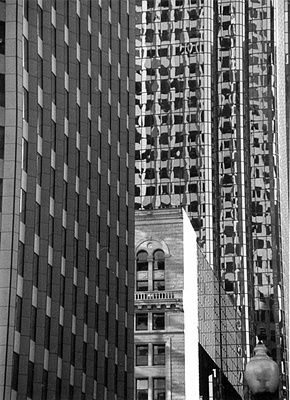 © Natalie D., Marblehead, MA