Search No More
October 26, 2012
Tired of his days of loneliness Shemar seeks out to find his one true love, Aubrey. Aubrey and Shemar were in love. They acted like people who were just married and could not be separated no matter what. Shemar was not the richest guy in the world, but what God didn't give him in money, he gave him in looks. He would always find himself searching for work so he could provide the best for his beloved girlfriend. But every time he promised her a bigger house and more things to please her, she would just say "Shemar material things are not what I'm looking for, I just want to be loved and tooken care of like any women deserves". Shemar could accept that for now. He stilled believed she was the greatest girl ever and thought she should be treated like royalty. Shemar loved Aubrey not only because she was pretty, but because she is more different than any girl than he ever met. All of the women he ever dated in his life wanted him because he was the best looking guy in the city. But not Aubrey she saw more to him than his looks, and when she looks Shemar in the eyes it's just something about her eyes that are so interesting it's very hard to look away. Looking into her eyes is like watching fireworks on the Fourth of July. Shemar found a full time job helping put children with physiological issues. Shemar always wanted to help children in any way he could because he believes children are our future. One day when Shemar gets home he finds a letter on the front door noted from Aubrey. The letter said things like how she loved him and wished they could be together. Shemar broke down, he had no idea what she was trying to say. Aubrey never acted as if she had any problems with Shemar, she was perfect in his eyes, and Shemar never saw a reason that Aubrey would even want to leave. On his journey prayed and hoped that he could soon be reunited with his love. Shemar didn't know if he missed Aubrey a little too much because he used to say things like "I love you too" or "You are so beautiful". The thing about it was when said there was no one in the distance. Shemar used to hear her voice in his head, he could almost smell her perfume, but most of all he could see Aubrey's eyes just looking at him, bursting their fireworks. Anyway Shemar checks into different hotels all around the city as he travels, searching for Aubrey. One hotel Shemar checks in to, he develops a close bond with one of the maids. Her name was Tanya and she was very nice young girl who Shemar instantly hit it off with. Hanging with Tanya, Shemar felt like old times with Aubrey. Aubrey and Tanya's features were almost alike except Tanya was a little bit smaller than Aubrey. Sometimes Tanya caught Shemar staring at her and she would smile and look away. Shemar opened up to Tanya about his love Aubrey and he told her about the letter. Every time the conversation came about Tanya would say defensive things like "Maybe she was going through something at the time she couldn't tell you" or "She probably was dealing with a lot of things that she had to get away". Shemar and Tanya would immediately change the subject. As Tanya and Shemar grew closer he started to fall in love her. In his mind it was just like dating Aubrey. And Tanya, boy oh boy when Tanya looks into Shemar's eyes he gets a tingly inside just like he did when Aubrey looked into his eyes. Shemar actually considered Tanya was Aubrey a few times. One night Tanya stopped by Shemar's hotel room to bring him some food they started talking about Aubrey. Tanya then said "Let's not think about that right now". Then she kissed him, Shemar lost all feeling in his legs because that was the exact wat Aubrey would kiss him. He remembered she'd turn her head to the right, look into his deep blue eyes, smile, and kiss him. Tanya and Shemar enjoyed their dinner together, but something just didn't feel right to Shemar. So he brought up Aubrey again, now missing her more than ever. "I just want to know, was it me?" "Was I the reason she left"? Tanya looked down almost guilty like then she grabbed her napkin and dried her up her now moist eyes, and grabbed both of Shemar's hands. Tanya started to break down, leaving Shemar confused but still in tears. "Shemar-"Tanya started. "I haven't been completely honest with you". Tanya said looking down at her maid skirt.
"Please don't get mad when I say this but-""It's okay" Shemar interrupted. "You can tell me anything". "Well see…. You know how you're looking for Aubrey"? Tanya asked, all choked up. "Yes. Why"? Shemar asked. "Well you don't have to look any longer, Shemar it's me Aubrey". Shemar pulled his hands away in despair and said nothing but, "Why"? Aubrey explained how she didn't want him thinking she didn't love him for his non-rich self and how she didn't want him sacrifice anything for her. "I just want to be loved and taken care of like any woman deserves". Tanya stated. "I hope we still can be together but most of all I hope you can forgive me". Tanya said
"How do I know you're not just going to walk out again"? Shemar asked. Just look into my eyes". Tanya said. That was Shemar had to do. Looking into her eyes was like watching fireworks on the Fourth of July, but only this time Shemar saw them being together forever.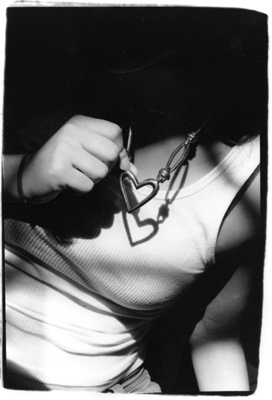 © Julia R., Bethesda, MD