Natalie
September 28, 2012
She looks like someone from the 1940's. You could swear that every time you look her way, everything becomes black and white with that kind of smoky feel like in those old movies. She has the mannerisms of Audrey Hepburn. Elegant and dainty with a flare of not caring about what other people think of her.

What I love about her are the little things. Every time she ties a knot on her shoelaces or a bow on a Christmas present or whatnot, it always has to be double knotted. The way she walks is like the heels on her feet are effortless to balance on. I love her laugh. There's nothing elegant about it.She snorts and the pauses waiting to see if I'll think her laugh is stupid, then she'll snort again. I love the way she fits in my arms.

There are things are don't like about her as well. It's like we always argue- like some old divorced couple. Even after I apologize, she won't forgive me at times. She's always so self-conscious even when I tell her she is the most beautiful person I have ever met. And it's true.

That's Natalie.
* *
*

His name is Tony. I have always told myself I will never fall in love. Not after my parents divorcing. Tony accepts my little quirks. Sure we argue a lot. But we qalways make up and our relationship gets stronger because of it. My parents argued, but they never made up; never got stronger.

Tony loves me. I know it because of the way he looks at me. I could, would, maybe even will, spend the rest of my life with him.
* *
*

I bought the ring today. I'm going to propose. I really love her and I can't bear not knowing what her answer might be. I have to know.
* *
*
I said yes!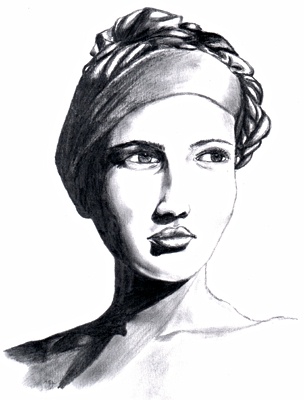 © Brynne L., Williamsburg, VA