Is There No Key?
September 19, 2012
Dear Kayla,
Who do you think you are, crashing into my life and jumping out like nothing happened?

I bet you think inside you are taller than everyone else, and I bet you think everything you do lasts a bit longer than everybody else.

Surprise surprise, this is not true. The world simply does not revolve around you.
Now it is obvious that there is no future between you and me. It was your green eyes that captivated me, but now I realize they were nothing but pearls of lies.

I looked into your heart and found a locked door. Tell me, why is there no key?

Maybe it is because you really didn't care, I went left and you went right. Your presence turned me warm inside, but you responded with a chilly repulsion.

Your eyes were probably locked onto another, and there was simply no space for me. Tell me, is he what you really want?

I bet you want a rich boy, one who will get you whatever satisfies your delicate taste. Maybe you will have a few more pennies more to put in your tiny pocket, but you will be a penny short when it comes to my love.

How about a strong boy, one who can easily throw a ball far beyond your view? No question, he can just as easily throw your love away with it too.

It must be the boy with the gorgeous blue eyes that you desire. But, like his eyes, his world is blue with sorrow. There is no room for love, and there is no room for you.

Maybe you look no farther than the boy that always makes you laugh. He laughs with you now, but without a doubt he will later laugh at your love as well.

You think what they say is nice, but don't you realize girl, that is your vice?

Tell me, why is there no key your heart? Your heart is all I need!
You do not listen, you still do not care. I shake my head; your rejection is my despair.

I still can dream, and dream I will. I can believe in anything that I wish.
My grief fuels my belief; there must be a girl better for me than you.

She looks like you, and has your eyes. But these eyes shine with love, and not your hate.

I hold her hand, and she holds my heart. She sings of love, but you sing of regret.
Now you open your eyes, you choose to look at me now.
But now your image keeps me sober,
I've finally realized that it's all over.
A better girl holds my heart, and she has given me her key,
a key to release all of my feelings of passion from inside of me
You never tried, you never cared.
Now it is you, who will carry the burden of grief,
By these feelings you cannot be spared.
Now you must live in regret,
But while holding her in my arms I will simply forget.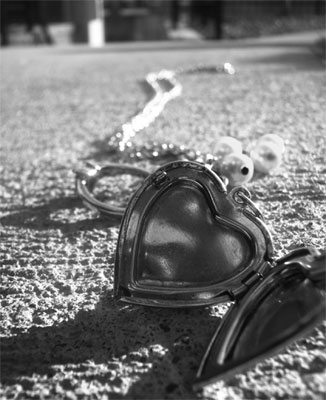 © Francesca Y., Robbinsdale, MN