The Homecoming Dance
September 14, 2012
Summer was over and school was starting all over again at Segoville High. Claudia,Jazmin,Karla, and Selena were all best friends. They all had a crush on Erik who was on the basketball team, except for Selena. Selena always thought Erik was full of himself since he was the best basketball player on the team. Erik was also never really interested in her and he had always liked Claudia.

So then, Erik asked Claudia to the homecoming dance, but turned out she had to go out of town that weekend with her family. Claudia was very upset to know that she could of gone to homecoming with Erik. By then all the girls already had a date to the dance except for Selena. Therefore, Erik and Selena were the only ones at Segoville High without dates to the dance.

Now, it was two days left until homecoming and even the teachers at Segoville High encouraged Erik and Selena to go together. They had both said "I rather go by myself then go with someone I don't like." So now the day had come and Selena,Karla, and Jazmin were all in the same car going to the Omni Hotel. Everyone took pictures together and also with their dates. You could feel the awkwardness in the room, when Erik and Selena weren't in the picture date.

The girls danced a few hip-hop songs together and then left with their dates to dance the slow music them. Alone Erik and Selena sat at the tables watching their classmates dance. At last, Erik had the courage to ask Selena to dance with him. Desperately, Selena said "yes," and they both walked to the dance floor.

Once the dance was over they started to get to know each other. Both of them found out that they had many things in common and became good friends. That same year they started dating and it surprised everyone at Segoville High. It came to their minds that it was fate for them to end up together at the homecoming dance.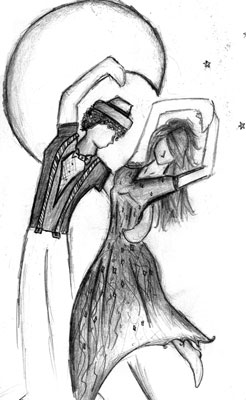 © Megan L., Everson, WA