Dreaming In Dejavu
September 14, 2012
The soothing light jazz fills the fresh ground espresso air as I shuffle into my favorite pastry shop on Main Street. My iPhone vibrates yet again with another new text message and voicemail as I glance up to realize my moment of dejavu. It's him; the man who's face I could never seem to see in all of my dreams. Bright green eyes glimmer above a crisp jaw line as he meets my gaze. For once in my life, I am lost for words. We locked eyes and that is when it all began.
"May I have a vanilla latte and an espresso muffin please?" I find myself looking at this man while I am speaking to the barista.
"Sure thing," she says with over joyous morning cheer; must be all of the caffeine.
"Let me get that and I will have the same. My name is Jett." He threw a twenty on the counter as we proceeded to the other end of the bar. "I couldn't help but notice your eyes when you were staring at me." The words sarcastically cracked through his perfect smile.
"I'm sorry. I didn't mean to stare. Thank you for my latte by the way. That was very generous of you. There was no need." He cut me off mid-sentence.
"Have I met you before? You just look so familiar." I have met you in my dreams, only if you knew.
"I would remember meeting you, Jett. I'm Penny."
We shook hands as the coffees hit the counter and grabbed them at the same moment. Proceeding to the door, he asked if he would see me again. A swift, maybe if you are lucky slipped through my lips.
"I am a pretty lucky guy today, because I just found my Penny," he slightly giggled as he spun in the other direction and headed off into the world with his seal grey suit.
Every day for one month I saw Jett in the coffee shop. We sat and sipped while growing fond of each other's company. Time seemed to pass slowly when he wasn't around and every night he would call at the same time before bed. I was falling madly in love and I needed to tell him. Jett is coming over for dinner tonight and it will be perfect timing to bring up my feelings for him.
A knock on the door and everything is ready to be plated. I invite Jett in to my softly lit apartment overlooking the perfect view of Manhattan that will be our backdrop for the evening. A romantic, yet rustic tablescape highlights the impeccable Tuscan meal and bottle of Cabernet. Dessert brings the perfect opportunity to tell Jett about my feelings for him and I find myself to be nervous. What if he doesn't like me in return? What if he laughs at how I feel? Clearly he likes me because he is here at my apartment, right now, with me.
"Jett, can I ask you something?"
"Of course, anything, what is it?" The reflection of the city lights glow in his eyes.
"Do you consider me someone who you could potentially see yourself wanting to have a relationship with?" A smile appears on his lips as he lays a penny on the table.
"I found this the day I met you and I have carried it with me ever since. You said if I was lucky I would see you again and this proved that I would. I knew from the moment I caught you staring, that you were the girl in my dreams that I have been seeing all my life. I love you Penny. I want to spend my life surrounded by you." Silence filled the air as a tear rolled from the corner of my eye, I found myself to be yet again in dejavu. "Oh my love, why are you crying? Did I say something that upset you?"
"No, not at all, you said the perfect thing. When I first saw you I felt the same way and all I know is that I love you too."
"Penny, I know it is very soon, but I want to spend the rest of my life with you. I could never imagine a day without seeing your beautiful smile. I want to marry you. Please say that you see the same for us." This was being said by the man of my dreams, of course I do!
"I do see the same. That is all I can think about now. I was hoping you would have the same feelings. I was so nervous to ask you tonight."
"Penny, my father asked my mother to marry him and she said no several times but she never wanted him to leave. She was not fond of marriage because she came from a broken family, but then one day, my father had a health scare and was rushed to the hospital. He passed the next morning. My mother was crushed and her only regret to this day is not marrying my father. I don't want to make the same mistake. I want to spend every moment with the woman of my dreams by my side."
Another unstoppable tear grazed over my cheek. Jett leaned over and wiped it away and looked into my eyes. At that very moment, I knew he was sent to me for a reason. My dejavu truly means that I am exactly in the right moment of life at the right time, and from this day, I will never let a waking moment go by that is not filled with love.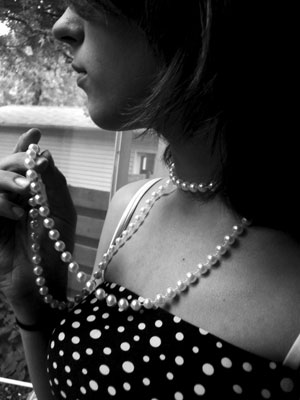 © Elaina V., Canton, OH